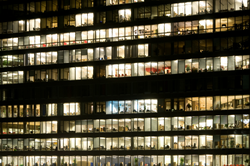 Email is for messaging, Glasscubes is for collaboration.
(PRWEB UK) 21 April 2016
Could email really be dead? Maybe. Cloud-based project management and collaboration software from Glasscubes is spreading like wildfire throughout the UK. Businesses from all kinds of industries are starting to see the dynamic ways in which their organisations can be transformed with a new way of communicating.
Not only businesses, but also charities, law firms, financial advisors and even the NHS have turned to Glasscubes to help them collaborate, streamline, project manage and handle sensitive data.
But why the sudden interest? What Glasscubes offers is unique in that, unlike traditional solutions for improved practices, it requires zero training – people use Glasscubes from the minute they sign up as if it were just a new email account.
Yet far from being just another alternative to your existing email, as Technical Director Wayne Pope explains, Glasscubes is a centralised location for ALL a business's files; a way of tracking a project's progress across different departments and companies, and a better, more evolved way of getting people to work together:
"What we've done is create a virtual office. This means that all you need is your web browser and you can start sharing, discussing, contributing. I think the broad adoption has largely been down to how friendly it is. Even people with no computer skills can start using Glasscubes straight away, teams really enjoy using it to work together. It's completely intuitive, and incredible for project managers because it has all the tools and features that people look for."
The team collaboration software provides a secure online workspace for users to manage their day-to-day activities with real-time chats and accessible, labelled conversations; cloud-based file sharing and document control; and task dependencies, critical path analysis and Gantt charts. As a result, businesses have found they can change the whole culture of how they get things done.
Pope says: "People come back to us saying they have reduced the need to send so many emails and attachments. It's simplified how they work together as a team. The workspaces have become the 'go to' place to store, share and post content, so everyone references the same accurate content and remains on the same page. It's an enormous game changer for them." But is it killing off email? - "Email is for messaging, Glasscubes is for collaboration. Teams get more work done with less effort, which is a good thing, right?"
With a free 30-day trial that requires no payment details, taking up Glasscubes for nothing other than to try it out is a no-brainer. Furthermore, with packages from only £25 a month and flexible monthly subscriptions rather than fixed long-term contracts, Glasscubes is as accessible as it is exciting.