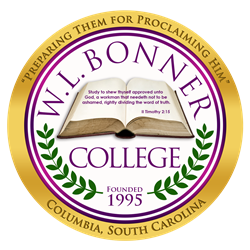 It is a great honor to recognize these individuals and many more at the WLBC Hall of Fame Event for their great service to the community.
Washington, DC (PRWEB) April 14, 2016
On Friday April 22, 2016 (6:30PM), the William L. Bonner College (WLBC) Board of Directors will sponsor the Hall of Fame Induction Benefits Reception in Washington, DC, a fundraising event purposed to support the mission and expansion of the WLBC, at the National Press Club (529 14th Street, NW 13th Floor) Washington, DC 20045. For more information, visit http://www.wlbc.edu.
The 2016 Hall of Fame Induction Benefits Reception will honor WLBC alumni and members of the community that have exemplified superior community service efforts in the Washington DC Metropolitan area (District of Columbia, Maryland, and Virginia). One of the honorees is Virginia Ali, owner of the world-renown Ben's Chili Bowl Franchise in Washington. Ali and her husband took a $5,000 investment and built an empire that persevered through tough times during the 60's and the 70's.
Other Hall of Fame inductees include two doctors specializing in the field of heart health. One is Dr. Marina Vernalis, the first woman medical resident, chief resident and cardiovascular fellow at the National Naval Medical Center in Bethesda, MD. She is an inspiration to women in medicine across the globe and continues to play an integral role in improving the heart health of countless active and retired military servicemen and women. Another honoree, the late Dr. Elijah Saunders, was the first African-American cardiologist in the state of Maryland, and a founding member of the Association of Black Cardiologists. Dr. Saunders was an advocate for cardiovascular health and education in the African American community and helped many understand hypertension and the connection between diabetes, heart attack and stroke.
In addition, Dean Alton Pollard, III Ph. D. of School of Divinity for Howard University is being honored for his significant years of service in the pastorate field and his national leadership in training clergy. WNBA professional Monique Currie, former Washington Mystics player, is also being honored for her philanthropy work with NBA Cares and the Society for Adolescent Health and Medicine. She is educating young people about their health and living healthy lives by bringing vaccines for teens to Washington DC communities. "It is a great honor to recognize these individuals and many more at the WLBC Hall of Fame Event for their great service to the community," says Chair of WLBC Board of Directors, Dr. Celeste Johnson.
The W. L. Bonner College was established in 1995 to prepare pastors, ministers, and missionaries of the Churches of Our Lord Jesus Christ of the Apostolic Faith, Inc. to perpetuate its educational and evangelistic ministries. The college now enrolls students across all religious denominations. It was founded by the late honorable Chief Apostle William Lee Bonner. "William Bonner labored countless of hours building his dream and has left a legacy for us to continue it on," said Elaine McQueen, who serves as dean and interim president of WLBC.
The WLBC needs your support to preserve this legacy and continue to provide quality education and the expansion of the college. The WLBC is a non-profit, 501(c)(3) organization qualified to receive tax-deductible grants and donations. WLBC is aspiring to be the leader and the choice for students seeking higher education in religious studies, vocational training and general education.
The WLBC Hall of Fame induction ceremony is an effort to save the college. The event will benefit the nonprofit with funds going towards faculty and staff salaries, the college library, bookstore, classrooms, maintenance of building and grounds, office supplies and equipment, computer lab equipment, and building repairs for the year 2016. Tickets to the fundraiser are available to purchase at http://www.wlbc.edu and sponsorship opportunities are available. You can also make a donation online.
For more information regarding the event or press inquiries contact Judy Groover at 202.361.3939 or jgroover(at)sweetfinesse(dot)com. You can also visit http://www.wlbc.edu.