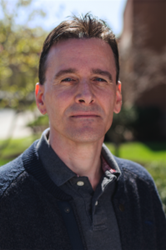 The PanzerCAD tools, along with Matt's understanding of designing valuable features, are a tremendous addition to the Vectorworks team.
Columbia, MD (PRWEB) April 14, 2016
Today, global design and BIM software developer Vectorworks, Inc. announces the technology acquisition of PanzerCAD's plug-in tools for Vectorworks software. As a longtime third-party development company, PanzerCAD Services, Inc. is well known for its popular product CameraMatch. The plug-in matches a perspective view of a design with a photograph of a site, aligning the 3D view of a model with a photo image. CameraMatch provides powerful tuning controls and image editing capabilities so that users can quickly refine and polish design presentations.
As a part of the acquisition, PanzerCAD's Founder and Developer Matt Panzer will join Vectorworks' engineering team as an architectural product planner. He will be responsible for assessing requirements and developing the task descriptions for architectural workflows.
"Matt has an established history of providing Vectorworks customers with tools and utilities that are beneficial to visualization workflows in Vectorworks software," said Darick DeHart, vice president of product management at Vectorworks. "The PanzerCAD tools, along with Matt's understanding of designing valuable features, are a tremendous addition to the Vectorworks team."
As part of the initial steps of the acquisition, Vectorworks and Panzer will focus on implementing CameraMatch into an upcoming release of Vectorworks software. In the meantime, the plug-in can still be purchased through CameraMatch's store, which will be supported by Vectorworks.
"I'm grateful for the valuable relationship that I've had with Vectorworks over the past years, and I look forward to this next chapter of officially joining their team," said Matt Panzer, architectural product planner at Vectorworks. "I plan to bring my expertise of software design and development into the mix right away for a smooth transition."
To learn more about CameraMatch or to purchase the plug-in, visit http://www.panzercad.com/purchase/order-cameramatch/.
About Vectorworks, Inc.
Vectorworks, Inc. is a global design software developer serving the architecture, landscape and entertainment industries. Since 1985, we have been committed to helping designers capture inspiration, nurture innovation, communicate effectively and bring their visions to life. We've developed the best CAD and BIM software for Mac and Windows that puts BIM at the heart of the design process, enabling the flexibility needed for efficient iteration throughout the design life-cycle. Headquartered in Columbia, Maryland, Vectorworks, Inc. is a part of the Nemetschek Group. Learn more about how we empower more than half a million designers to create experiences that transform the world at vectorworks.net.
###