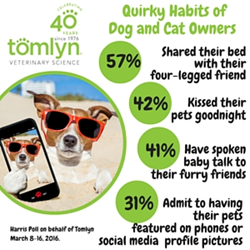 "There's no denying that our pets are important family members and we treat them as such," says Tabitha Cromer, Tomlyn's marketing manager and owner of several feline "children."
Fort Worth, TX (PRWEB) April 15, 2016
Of the 1,339 U.S. owners of dogs and cats¹ polled in a new survey* conducted online in March by Harris Poll on behalf of Tomlyn (http://www.tomlyn.com) pet health products, not only do 57% say they have shared their beds with their four-legged friends in the past 5 years, but close to half (42%) have actually kissed their pets goodnight.
"There's no denying that our pets are important family members and we treat them as such," says Tabitha Cromer, Tomlyn's marketing manager and owner of several feline "children." "If you take a look at my cell phone, you'll see my cats as the screen saver, just like the nearly one in three (31%) of those we surveyed who also admit to having their pets featured on phones or social media profile pictures."
Just look at the holiday cards from friends and family and it's obvious how valued our pets are: In the past 5 years, nearly a third of dog/cat owners (32%) admit to signing their pet's name or including them in their holiday photo. While 41% say they have spoken baby talk to their furry friends, 16% claim they have locked their pets out of the room when they were having sex so they didn't feel watched. Slightly fewer (12%) say they have declined or cancelled going to a social event because they didn't want to leave their pets at home alone, while about 6% have called in sick to work because their pet was not feeling well. Pets left alone at home are also an issue for 4% who have called home to talk to their pet through the answering machine, and 3% have actually set up a nanny cam-type camera to watch their pet at home or at pet day care.
While people may not spend more money on their pets than their children (only 5% of dog/cat owners admitted to doing this in the past 5 years), 22% (one out of five) say they have spent more on their pets than they do on themselves, including dressing their pet in clothing similar to their own/or getting a Halloween costume for their dogs and cats (17%) and pet birthday gifts (24%).
Dog and cat owners care about their pet's health, as well, including what they eat: 42% say they have read labels closely on pet food products and 12% say their pets would benefit from supplements.
About Tomlyn:
Tomlyn®, a pet health and wellness company founded in 1976, celebrating its 40th anniversary this year, carries a complete line of scientifically developed, veterinarian-approved pet health products. The company's wide range of product categories range from immune support, vitamins and supplements and hairball remedies, to joint and hip support, calming aids and sanitizers. Known as the maker of Nutri-Cal® and Laxatone®, Tomlyn is owned by the ninth-largest veterinary pharmaceutical company in the world.
¹Within the survey, dog and cat owners include Americans who indicate they currently have a pet dog or cat or had one within the past 5 years
*This survey was conducted online within the United States from March 8-10, 2016 among 2,015 adults ages 18 and older, among which 1,339 currently have a pet dog or cat or had one within the past 5 years, by Harris Poll on behalf of Tomlyn via its Quick Query omnibus product. Figures for age, sex, race/ethnicity, education, region and household income were weighted where necessary to bring them into line with their actual proportions in the population. Propensity score weighting was used to adjust for respondents' propensity to be online. For complete survey methodology, including weighting variables, please contact Laura Giardina.