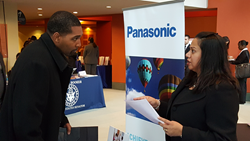 Newark, NJ (PRWEB) April 14, 2016
More than 300 active duty personnel, veterans and their families filled the New Jersey Performing Arts Center to meet with employers and service providers at the 8th Annual GI Go Fund Newark Veterans Job Fair.
More than 60 exhibitors representing employers, educators, and service providers participated in the event to meet with veterans in attendance. In addition, 105.5 WDHA was broadcasting live from the event, interviewing the former Deputy Commissioner of the NJ Department of Veterans Affairs and Director of Rutgers Veterans House Colonel Stephen Abel, as well as Stephen Walz of AXA Equitable, and Justin Stanley of the Kessler Foundation.
Dozens of veterans who arrived at the job fair looking for work but lacked a quality resume utilized the Resume Generator kiosk from JobPath, the innovative new online job searching, training, and mentoring site exclusive to military veterans. Veterans developed their veteran profile on JobPath, inputting their military and civilian skills into the site, and their system developed a custom resume that they could show to employers at the event and future job interviews.
The event was hosted by GI Go Fund, a nonprofit organization dedicated to helping military veterans and their families. The organization has enjoyed incredible success in helping veterans connect to the services and opportunities they need, and they are celebrating their ten-year anniversary of providing support to our current and former military personnel.
"We have been working hard over the past decade to give veterans the support they need and to prove to the business community that the men and women who have served in the armed forces make great employees," said Jack Fanous, Executive Director of the GI Go Fund. "Nowhere else will you find such dedicated and hard-working or disciplined workers. Spreading this message has been our mission for the past 10 years, and we are so proud to see great companies like PSEG, Panasonic, AXA Equitable, and countless others show a true willingness and dedication to hire veterans."
Sponsors and partners for the event included PSEG, Panasonic, Kessler Foundation, JobPath, and SoldierOn.
About GI Go Fund
GI Go Fund is a 501(c)(3) nonprofit charitable organization that provides assistance to all military veterans, with a focus on veterans from Iraq and Afghanistan, by helping them find employment, access housing, and secure their educational and health benefits. GI Go Fund is celebrating its 10-year anniversary in 2016, helping thousands of veterans and their families with all of their needs since its founding in 2006. Learn more at http://www.gigofund.org.