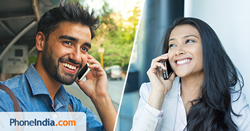 Best customer service, best connection and cheapest in US market. (Sharad Moonat on Facebook)
Atlanta, Georgia (PRWEB) April 18, 2016
A recent research powered by PhoneIndia.com, a website dedicated to Indian expats worldwide, made several interesting findings about Indians living abroad. The study followed the behaviour of thousands of customers on PhoneIndia.com, and surfaced their favourite immigration countries where they settled, how often they contact their families and friends back in India and how much time they spend on the phone, how often they send an online gift and to whom and which are the most talkative times of the year. People who took part in the study use the service on PhoneIndia.com for their international calls and top ups of mobiles in India, no matter where the credit is sent: http://phoneindia.com/
The report points out the main areas where Indian-origin communities can be found. The largest communities of Indian expats live in Canada, New Zealand, the USA, United Kingdom and Australia. Canada is a pretty new destination for Indians in terms of degree of popularity. Canada has become a popular destination for Indians somehow recently, in the last years, while US, UK have always been attractive and welcoming destinations for courageous Indians willing to adapt to new cultures and have an international experience.
According to MigrationsMap.net, in 2007 the USA was the third target country on Indians' migration menu, after United Arab Emirates and Saudi Arabia. At that time there were over 1 million Indians registered in the USA, and almost 500,000 officially settled in the UK. Migration waves intensified in the last years, so numbers must be higher now.
An interesting finding of the research is that Indians abroad call home twice a day on average. This means that some of them call someone in India even more than 2 times a day, which makes their nostalgic spirit and solid bound with their loved ones back home. Also, this may confirm how strongly they identify with their native culture, they respectfully keep alive even on foreign land. A simple eagle view over any American, British or Canadian community, points to an Indian restaurant.
Not only do Indians make unexpectedly frequent calls to people they know in India, but they also spend as much time on the phone as most talkative Latinos. More precisely, they spend around 10 minutes on a call to India. This aspect may be a myth busted info for the general understanding of Indian communicative spirit and communication habits.
Another good explanation why they talk so much on the phone and afford so many international calls is the rate to India. It costs 1.2¢/min with the Voice Credit service on PhoneIndia.com to call both landlines and mobiles in India, from any part of the world, which is lower than a local call within India. Yet, the best rate, at a global scale, to call landlines or mobiles in India is 0.6¢/min, which is available with the India 3300 monthly plan, that can be cancelled whenever necessary. The plan is obviously very flexible and can be acquired in less than 1 minute online, without any contract.
There are two times in a year when Indians call home much more than usual: on New Year and around Diwali. These holidays seem to be prolific when it comes to family celebration and get togethers despite the distance. There is another reason why this happens. On such ocassions, PhoneIndia.com encourages long-distance communication between Indians by offering generous bonuses and special coupons. Indians who use this website, are notified by email in advance since they subscribed to "Get offers" or became a fan or a follower of the Facebook page: https://www.facebook.com/PhoneIndia/
Another result of the research reveals that Indians use the latest technology to support their relatives and friends who migrated to Asian neighboring countries like Afghanistan, or far away regions like Kenya and Ivory Coast in Africa. PhoneIndia.com report shows at least once a month, Indians who managed to settle in highly developed countries top up someone's mobile in Afghanistan, Kenya or Ivory Coast. In conclusion, they use Mobile Recharge service on PhoneIndia.com to send mobile credit in less than 1 minute to their relatives or friends from India who moved to these countries. Since the transaction is fast, affordable and online, this is a suitable alternative to other types of gifts that require high shipping fees and much time to reach the destination.
This mobile refill service on PhoneIndia.com is primarily available for top ups to India from anywhere in the world. Indian expats use it to refill mobiles in India pertaining to such networks like: Airtel, Vodafone, Idea, BSNL, Docomo, Aircel, MTNL, MTS, Reliance, TATA, Uninor, Videocon. Many Indians stayed with this platform due to the processing fees which are the lowest on the global market. They can use it any time since once they have a free account on PhoneIndia.com. And the credit sent to someone in India, can bring that person local or international calls, SMS and / or Internet data according to the operator of his/her mobile.
Indians that use PhoneIndia.com talk publicly on Trustpilot.com about the reasons they have chosen this service over others to make their international calls and top ups to India, and point out to the benefits.
-Registering with PhoneIndia.com is free, just like installing KeepCalling app powered by the same brand.
-Multiple actions are possible using the same account; for example, an Indian expat can buy Voice Credit for his/her calls to India, and occasionally top up a mobile in India or elsewhere in the world, using the same account.
-There are 3 different ways to call and text with and without Internet access: a smartphone app for Android and iOS, called KeepCalling, access numbers that require no Internet access and can be used from landlines, payphones, smartphones and old generation phones; and Web Call desktop app that requires no download (available in one's account) for calls from PC to phone.
-There are free features that make the calls resemble local calls in terms of price, dialing, phone Contacts import and connection.
-Thank You points are awarded on every purchase, and once they amount to 1000 they can be converted into free calls.
-Rates are the lowest on the global market, while call quality is high.
-All transactions and last month's Activity are available in the online account.
-The Voice Credit balance never expires.
-There are no hidden fees on any of the products (Voice Credit, Monthly Plans, Mobile Recharge)
-Promotions and other goodies are shared or advertised on Facebook, where the Indian community is growing daily: https://www.facebook.com/PhoneIndia
PhoneIndia.com is an interactive website designed by KeepCalling, a global telecommunications company registered in 2002 in USA. Presently, KeepCalling provides its services to hundreds of thousands of consumers and businesses, with a focus on customer satisfaction. KeepCalling has been listed by Inc 5000 as one of the fastest growing companies in the USA for 5 consecutive years. In 2015 the company registered a revenue increase of over 200% from 2011 to 2014.