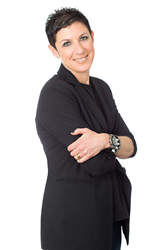 I am accepting the award on behalf of the women who have inspired me along the way and, as important, the amazing women I work with every day at Zeno – from our interns to our Leadership team. It has been a privilege to lead Zeno Group.
New York, NY (PRWEB) April 15, 2016
In recognition of her transformation of Zeno Group from an unknown, small PR firm into a global, integrated communications agency with offices across North America, Europe and Asia, Barby K. Siegel, Zeno Group's CEO will be honored with the 'This Woman Means Business Award' at the 12th Annual M2W® - The Global Summit on Marketing to Women. M2W® is designed to teach brand marketing and ad execs how to build more business with women who account for $7 trillion annual spending in the US, and over $20 trillion globally. M2W® will be held May 2 & 3, 2016, New York, NY.
"The award, annually presented during M2W®, is given to a woman who is a proven leader in her category of expertise…is an innovator and visionary…and has a track record of building successful enterprises while energizing and inspiring the people she touches in all she does," according to Nan McCann, M2W® producer. "In style and substance Barby K. Siegel has repeatedly demonstrated in every way that She Is A Woman Who Means Business! and has the results to prove it."
"While I am the lucky one who gets to accept this award on the stage,' Siegel said, "the truth is that I am doing so on behalf of the women who have inspired me along the way and, as important, the amazing women I work with every day at Zeno – from our interns to our Leadership team. It has been a privilege to lead Zeno Group – both in terms of the work we do for our clients as well as the environment we are building - a place where careers are built and lives are lived."
"I am especially thrilled to be part of M2W® the Marketing to Women Conference this year as it goes global. We spend a lot of time at Zeno studying global audiences to help clients make deeper connections with the people they want to reach. To be successful among women in the global economy, we must understand the core values and behaviors that guide them every day. Some of the most interesting work we are doing at Zeno is studying women across the generations - from Gen We to Boomers – and drawing actionable insights on what makes each age group truly unique."
Past winners of the award have included, Angie Klein, VP Consumer Sales Strategy & Distribution, Verizon; Kelly Parisi, CCO, on behalf of the Girl Scouts of the USA; and Kris Malkoski, President, Global Business & Chief Commercial Officer, World Kitchen.
Malkoski, who won the award when she was VP/GM of Craftsman and the first woman to lead a male dominated brand in the tools category, nominated Siegel for this year's award. She said, "Barby's team at Zeno has come up with incredibly creative campaigns for us like the World's Largest Measuring Cup to celebrate the Pyrex 100th anniversary (achieving over 1 billion impressions!), and bringing the Craftsman luxury tractor to the Detroit Auto Show, which inspired great media coverage including Indy 500 and Dancing with the Stars winner Helios Castroneves exclaiming he wanted to race the Craftsman tractor! Barby means business in every way!"
"The award is one of the highlights of M2W's first day," McCann said. "We're all looking forward to the presentation and listening to Barby's comments on the role 'Fearless' has played in her life and the impact it has had on the women she crosses paths with every day. Her insights will reveal a new definition born out of a more personal viewpoint of 'fearless' that the next generation of women leaders will unlock across industries from tech, autos, finance and pharma to CPG, housing, retail and travel."
"In addition to this woman means business award ceremonies, M2W® will include over 30 speakers and a day and half of executive sessions teaching marketers how to build better business with today's women." McCann added. "Women are today's power consumers. They control 85% of all consumer spending in virtually every category. More than ever before, here and in markets worldwide, women mean business."
"M2W® is annually attended by Fortune 1000 senior brand marketing executives and their agencies. The audience typically includes companies as diverse as Harley-Davidson, Bayer, Aetna, ESPN, Kraft Foods, Ford, GM, Johnson & Johnson, Kellogg, Diageo, Walgreens, Wells Fargo, NBA, WebMD, Burton, L'Oreal, ConAgra and Whirlpool. They attend," McCann said, "because they recognize the brand-critical importance of engaging women."
M2W® 2016 is Presented by Google, and sponsored by Associate Sponsor Unity Marketing with Showcase Sponsors: HouseParty, Luxe Bloom, Makovsky, World Kitchen, DeLonghi, VML, DeVries Global, Ketchum, Sampler, Centric, Edison Research, SheKnows Media, Marakae Marketing, Fluent, Stone Mantel, Influence Central, Women's Marketing/SITO, and Coyne PR. M2W®'s official Bookseller is Paramount Market Publishing, and the Video Content Resource is Snippies.
For complete conference schedule and information visit: http://www.m2w.biz or call 860.724.2649 x11. M2W® is produced by PME® Enterprises LLC, 912 Silas Deane Highway, Suite 101, Wethersfield, CT 06109. PME® http://www.pme-events.com is a sales and marketing agency with a special emphasis on events.