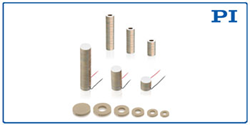 Auburn, MA (PRWEB) April 14, 2016
Motion control and piezo systems expert PI (Physik Instrumente) L.P. introduces a new line of round multilayer actuators in its proprietary PICMA® ceramic series and expands its current line of rings and round chips with larger dimensions. Proven reliability for high performance and long lifetime, PI's actuators are ideal for industry and research, including laser tuner, micro-dispensing, and life sciences.
Flexible Scaling, Superior Lifetime
With microsecond response time, sub nanometer resolution, and very high forces, the P-088 circular series PICMA® piezo actuators, chips and tubular stacks now complement the successful family of square PICMA® actuators that currently find use on the Mars Rover Science Lab after surviving 100 billion cycles of stress testing by NASA/JPL. The new actuators are based on the same multilayer and ceramic encapsulation process, and can be stacked from smaller segments to allow even faster adaptation for OEM needs with a short delivery time. Low operating voltage and resonant frequency up to 68kHz make these actuators well suited for highly dynamic processes. Actuators are available in a variety of shapes and with different options, including UHV compatible versions with solderable contacts.
Circular and Annular, Ultracompact, Stackable, Variable Diameters
PICMA® ceramic technology is applied to the PD0xx series of miniature annular PZT chips with outer diameters from 5mm to 16mm and inner diameters of 2.5mm to 8mm. The largest diameter, 16mm, delivers 6000N (1300lbs) of blocking force in circular form and 4400N in annular shape. Travel range of 2µm is achieved at 100V.
Technology Proven In Space
PI's proprietary PICMA piezo ceramics were successfully tested for 100 billion cycles by NASA/JPL which qualified them to be used in the Mars Rover's instrumentation and testing equipment. Four years after Curiosity first landed on the red planet, PI products are still going strong at peak performance and reliability. PICMA technology integrates ceramic insulation that is polymer-free, humidity resistant, and able to tolerate a temperature range of -20 to 80 C.
Specifications, Datasheet, More Information >
Standard and Custom
PI has in-house engineered solutions with over 4 decades of experience working with customers to provide products that meet application demands, and can quickly modify existing product designs or provide a fully customized OEM part to fit the exact requirements of the application.
Applications of PICMA Stack Actuators and Ring Actuators
Fields of applications include micro-manufacturing, photonics ad optics alignment, semicondutor test equipment, biotechnology, surface metrology, quality assurance, naometrology, and nanopositioning.