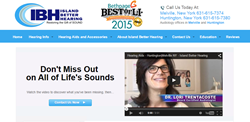 (PRWEB) April 14, 2016
Hearing aids have witnessed some dramatic improvements over the last 10-15 years. Modern, digital hearing aids are smaller, more powerful, and more effective than the analog hearing aids of the past. But what exactly makes modern hearing aids better?
Island Better Hearing answered this question in a recently published article titled What Makes Modern Digital Hearing Aids Better?
To begin with, hearing aids, like all consumer electronics, have reaped the benefits of the digital revolution. Hearing aids have become miniaturized computers, and the digital circuitry has resulted in hearing aids becoming more compact, lightweight, and energy-efficient.
Most importantly, as miniaturized computers, digital hearing aids can process information—information in this case being sound. Once sound is captured by the hearing aids, digital processors can manipulate the sound, amplifying certain frequencies while suppressing others. Whereas analog models tended to amplify all incoming sound, digital hearing aids can be more selective.
This selective processing results in clearer speech sound and the ability to filter background noise. As a result, sound is heard more naturally and the hearing aid user can better comprehend speech.
Other advanced features of digital hearing aids include clearer phone calls, wireless streaming of phone calls and music, and wireless control of hearing aid settings.
For more information on digital hearing aids, visit Island Better Hearing.
About Island Better Hearing
Island Better Hearing is a full-service audiology practice located in New York, with locations in Melville and Huntington. The practice offers comprehensive hearing care services to help members of the local community hear better, live better, and reconnect with loved ones.
Contact:
Lori Trentacoste, Au. D., CCC-A
Island Better Hearing
631-615-7374
http://www.islandbetterhearing.com