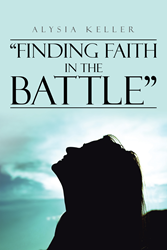 I want readers to be able to understand the mind of someone who had or has an eating disorder because it is not just about food or wanting to be skinny
HOUSTON (PRWEB) April 15, 2016
Across the nation, 30 million men and women will suffer from various eating disorders. Of those 30 million, only 35% will seek treatment making eating disorders the leading cause of death among mental illnesses.
Alysia Keller was one of those 30 million people who suffer from eating disorders. As she traveled the road to recovery, she focused on her family, friends and faith to get her through.
As a certified health coach, Keller has daily encounters with people struggling with eating disorders. She has mentored young women who struggle with low self-esteem and body dysmorphia. Given her first-hand experience and knowledge of eating disorders, she hopes to encourage others going through the recovery process.
"My goal is to bring awareness of eating disorders to society," Keller said. "It is more common than people think and the sooner we help others the more lives can be saved."
In Alysia Keller's new book, "Finding Faith in the Battle," readers get an intimate look into the mind of someone who faced those mental and emotional challenges. Featuring an explanation of various eating disorders, the impacts of family and a timeline of her progress, Keller shares her road to recovery from before, during and after rehab, explaining how she found hope in each step of the process.
"I want readers to be able to understand the mind of someone who had or has an eating disorder because it is not just about food or wanting to be skinny," Keller said. "It is a much deeper and emotional issue with a disease in the mind and not having control over situations."
"Finding Faith in the Battle"
By Alysia Keller
ISBN: 978-1-5049-5879-0
Available in softcover, hardcover, e-book
Available on Amazon, Barnes & Noble and Author House
About the author
Alysia Keller is a certified health and wellness coach and medical assistant affiliated with the American Association of Drugless Practitioners. She is an alumna of the Institute for Integrative Nutrition and Victoria College. Keller is the club manager at Anytime Fitness of Port Lavaca in Texas and is a personal trainer. In her spare time Keller enjoys cooking and spending time with her family. Keller currently lives in Port Lavaca, Texas.
# # #