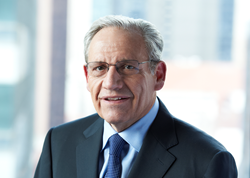 New Berlin, Wis. (PRWEB) April 15, 2016
KEY2ACT, the construction and field service technology leader, announced that legendary journalist Bob Woodward will be the keynote speaker at Synergy 2016.
Bob Woodward and fellow journalist Carl Bernstein contributed much of the reporting on the Watergate scandal. Since then, Woodward has written in depth about the last eight presidents, and has recently been reporting on the 2016 presidential election. During the keynote, Woodward will share his thoughts on the office of the American presidency and what he thinks voters might expect from the next president.
"We picked Bob Woodward to give the Synergy 2016 keynote because our customers know it's not enough to understand only what's going on in their industries. It's just as important to understand what's going on in our world," said KEY2ACT CEO John Jazwiec. "We chose a nonpartisan speaker uniquely positioned to comment on macroeconomic and political trends. Woodward's thoughts will be especially relevant coming weeks before a national election."
Synergy is the annual conference that brings together members of the KEY2ACT community to learn and connect with other users. Synergy 2016 will take place October 24-27 in Fort Worth, Texas. For more information, visit the Synergy 2016 website.
ABOUT KEY2ACT
KEY2ACT is the construction and field service technology leader. Combining 20 years of experience serving customers with visionary leadership, KEY2ACT delivers differentiating innovation to its customers. KEY2ACT is focused on mechanical and non-mechanical specialty trades, facilities maintenance and other large asset or equipment-centric industries. Built on Microsoft technologies, KEY2ACT's solution, Signature, has achieved the Certified for Microsoft Dynamics (CfMD) status, Microsoft's highest accreditation for partner-developed solutions. KEY2ACT protects customers' investments in technology through focused solutions that create workflow efficiencies, enhance cost savings and build customer loyalty. For more information on KEY2ACT, please visit us at http://www.KEY2ACT.com, or call 1-866-KEY2ACT (1-866-539-2228).