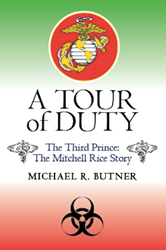 The book's purpose is to give those who would have to deal with PTSD victims a view of what combat really does to the heart and soul of a combatant
NASHVILLE, Tenn. (PRWEB) April 15, 2016
According to the U.S. Department of Veterans Affairs, based on the U.S. population, about 7 or 8 out of every 100 people (or 7-8% of the population) will have Posttraumatic Stress Disorder (PTSD) at some point in their lives.
Physician and counselor Michael R. Butner has spent more than forty years helping people, in particular veterans and military families, with PTSD. As a result of his decades of personal experience with PTSD and research, Butner has created a new approach to treating the disorder – Posttraumatic Re-Intergration Processing (PTRIP) – that focuses on the importance of family members, personality types and self-forgiveness.
"My path in the military involved both science and medicine," Butner said. "Consequently, I have spent a professional lifetime caring for combatants and dealing with environmental, psychiatric and medical issues veterans suffer as a result of their service."
In addition to his presentations to medical, military and educational groups, Butner explores the effects of war and his possible treatment method for PTSD in his new book, "A Tour of Duty." Following the life of one United States Marine through the Vietnam War, the Cold War and the First Gulf War, the book emphasizes the horrors of combat and the long-lasting mental and emotional consequences.
"This book is especially designed to speak to the spouses and family of military personnel," Butner said. "Its purpose is to give those who would have to deal with PTSD victims a view of what combat really does to the heart and soul of a combatant."
Profits from "A Tour of Duty" are being donated to the Semper Fi Fund, the Marine Corps Wounded Warrior fund.
For more information, visit bookstore.iuniverse.com.
"A Tour of Duty: The Third Prince – The Mitchell Rice Story"
By Michael R. Butner
ISBN: 978-1-44018-711-7
Available in softcover and hardcover
Available on Amazon, Barnes & Noble and iUniverse
About the author
Michael R. Butner is a physician, counselor and scientist with a lifelong interest in posttraumatic stress disorder. His special focus in the mental health of military personnel, and he has been a member of the Homeland Security network and a disaster planning consultant. He lives with his family in the Midwest.
# # #