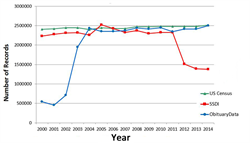 You really can't say "It wasn't priced into the policies," with a straight face.
Vero Beach, FL (PRWEB) April 18, 2016
George A. David, Chairman / CEO of ObituaryData.com issued the following statement for Life Insurance Companies doing business in FL.
"Florida's new law, SB 966, says insurers now have to attempt to find deceased policy holders and their beneficiaries."
"Social Security is not the answer. The Social Security Death Index will give only about a 60% chance to find out who is deceased and will be absolutely no help in determining their locations or finding beneficiaries."
"ObituaryData.com offers the whole solution to complying with both the spirit and the letter of the new law. We have the most current and complete database of U.S. Deaths since 2003 and it includes complete Obituaries. The records include Ages, Dates of Birth, City and State of Residence, Survivors and a basic history of a life. All are linked to available Social Security data."
"We already supply our Data to Insurance Companies and Insurance Service Providers but the full range of Services is only available directly from ObituaryData.com."
"The best examples are our List Match and List Monitor services, which are designed to identify likely matches in any list that is formatted in Excel. The customer's list can be submitted by email or SFTP and run against the Social Security Database and/or the Obituary Database. The Search/Match Criteria on the submitted file can include First Name, Last Name, Date of Birth, City of Residence, State of Residence, and Social Security Number (if available).
The results include the full Obituary for each match and will allow the user to identify and track down survivors.
"These reports are reasonable. A one-time Match of a 5,000 name list costs $287.50 if it is run against both the SSDI and the Obituary Databases. That same list can be Monitored and reported monthly for $230.00 per month. Larger and smaller lists can be accommodated. The system has been tested and widely accepted in the insurance industry. It is simple, efficient and accurate."
We invite you to visit our website to learn more and click on "Try It For Free" to get started.
Mr. David concluded "You really can't say "It wasn't priced into the policies," with a straight face."
Check us out at http://www.obituarydata.com