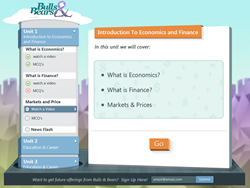 New York, NY (PRWEB) April 15, 2016
Markets are swooning! The Chinese stock market crashes! Oil prices plummet! These are the type of challenges that keep players guessing – and learning – when they play Bulls & Bears, a newly released gamified personal finance and economics course designed by a team of international experts; led by a senior World Bank economist and a Stanford graduate gaming specialist -- now available to help meet a growing demand for increased financial literacy for K-12 students throughout the U.S.
According to a recent stream of studies this month -- National Financial Literacy Month -- most Americans don't know the basics of personal finance and economics. A study just released by PricewaterhouseCoopers shows that while 92 percent of K-12 teachers believe financial education should be taught in schools, only 12 percent of them actually do so.
The Bulls & Bears game releases couldn't be more timely. Studies show that students who receive instruction in basic personal finance as teens are more likely to achieve positive outcomes in adulthood, such as better credit scores and increased savings – yet only 20 percent of educators say they feel properly equipped to teach these skills.
Just in time for National Financial Literacy Month, Bulls & Bears has launched a simultaneous release of two new games that teach players to master their money: A brand-new edition of the highly popular original Bulls & Bears board game, featuring updated content that reflects the latest market developments and evolution in economic and financial thinking; and a new online version of Bulls & Bears – a full-featured interactive personal finance course, cleverly designed as a video game.
The two engaging formats of Bulls & Bears can be played independently or combined. The board game is a fun social experience that focuses on the excitement of trying to anticipate market reactions to news events, while the online version offers a more in-depth learning experience. By making the financial literacy concepts of Bulls & Bears available in both electronic and "unplugged" formats, Bulls & Bears creates opportunities for students and educators to apply differentiated learning strategies to suit students of every age and ability level, from middle school through college and beyond.
Key features include:

Fun videos that teach the basics of personal finance, economics and investing
Challenges that test knowledge acquired by responding to thought-provoking questions and news events
Activities that require students to apply their skills by making decisions about their personal investments and lives
A special Guidebook on personal finance for students
A traditional board game connected to the online game
Lesson plans for educators
Bulls & Bears is an ideal companion to textbook or classroom learning. It covers essential parts of the Voluntary National Content Standards in Economics Education and the National Standards for Personal Finance Education.
Throughout the month of April, U.S educators are invited to test their own personal finance/economics savvy for a chance to win a free copy of Bulls & Bears. The first 20 entrants who answer all the questions correctly and send in their name/email and quiz answers to info@bullsandbearsonline.com will be selected as top prize winners and receive a free copy of the board game, which includes access to the online game.
Founded by Mario Fischel, Ph.D., an Austrian economist and former manager at the World Bank; Kerin Jacobs, a Stanford University graduate and investment banker; and Playful Shark, a cutting-edge Israeli game development firm, the Bulls & Bears team of top global industry leaders including economists, financial experts, and instructional game designers is headquartered in Israel.
For more information, visit us on the web at http://www.bullsandbearsonline.com or on Facebook http://www.facebook.com/bullsandbearsgame, or call 914-747-2500.
Call for Entries: Teachers Please Submit Your Answers and Win the New Game
(send your name, email and answers to info(at)bullsandbearsonline.com)
Job Market of the Future
Answer the following Multiple Choice Questions
What is "human capital"?
1) Investment in know-how and skills
2) Pleasant personality
3) City with attractive living conditions
4) Family businesses
Which of the following professions is likely to see an increase in U.S. job demand in the future?
1) Assembly worker
2) Tour guide
3) Legal assistant
4) Telemarketer
Inflation
Answer the following Multiple Choice Questions
Headline and core inflation differ because core inflation does not include?
1) Increases in wages
2) Higher taxes
3) Cost of food and energy
4) Cost of housing
Which of the following groups would suffer a loss from inflation?
1) Bondholders
2) Stockholders
3) Companies
4) Government
For each news event, decide whether the investment shown will go up or down following the event – in other words, should you buy or should you sell?
Event 1: The Fed reports average capacity utilization of 92% in industry.
Stocks Buy Sell
Bonds Buy Sell
Gold Buy Sell
Event 2: Prices fall in Japan! The consumer price index is 2% lower than a year ago.
Japanese stocks Buy Sell
Portfolio Allocation
Chose a course of action for each scenario
Gina has accumulated a large portfolio. Her investments have done well, but after a long bull run, equities represent 75% of her portfolio. She's also thinking of buying a home within the next 5 years and wants to start saving for the down-payment. What should she do?
1) Keep everything as is since things are going well
2) Buy more equity since prices keep going up
3) Sell some equity and keep proceeds in cash
4) Sell all equity and jump back into the market
Mike owns a home and U.S. stocks. He has heard that exposure to emerging markets is good for diversification, and likes India due to the size of its market and relatively strong growth. He's considering to invest $20,000, but he's not sure when to enter the market or what to buy?
1) Buy 1 stock of an Indian company with exceptional growth prospects
2) Buy 4-5 stocks of Indian companies with strong profitability and brands
3) Buy $5,000 of an India ETF on the 1st day of each of the following 4 quarters
4) Buy an India ETF once prices have fallen by 20% from the current level