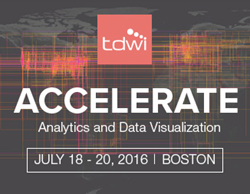 An unrivaled learning experience delivered by leading analytics experts.
Seattle, WA (PRWEB) April 14, 2016
TDWI, a division of 1105 Media, announces TDWI Accelerate: Analytics and Data Visualization, July 18–20, 2016, in Boston. TDWI is the leading source of business intelligence and analytics education, research, and news about all things data. At TDWI Accelerate, data professionals will learn best practices and skills to help reach their analytics goals more quickly; including techniques for gaining insights from their data and democratizing analytics to drive business value, enhance operations, and enrich customer experiences. Accelerate focuses on these key areas of analytics:

Self-service analytics and data visualization—the language of images, data storytelling, democratization, and data preparation
Advanced analytics and data science—predictive analytics, data mining, tool selection, Internet of Things, advanced algorithms, cognitive analytics, and more
Analytical organization and leadership—organizing and building teams for success, developing an analytics culture, and making it happen
Participants will attend case study presentations, expert sessions, panel discussions, half-day courses, a broad range of structured and unstructured networking opportunities, and survey the latest analytics technologies.
Three keynote speakers cover some of the most important topics in analytics today. Wayne Eckerson, director of research and principal consultant, Eckerson Group LLC, and author of Secrets of Analytical Leaders: Insights from Information Insiders, will speak on "The BI Power Shift: Creating a Shared Organization." Kirk Borne, principal data scientist, Booz Allen Hamilton, will discuss "Data Trek - The Expanding Universe of Data Science." Jennifer Shin, founder and chief data scientist, 8 Path Solutions LLC, will explore how to "Empower Your Visualizations."
To Register
Visit the event website: tdwi.org/Accelerate. Conference attendees who register by May 27, 2016, are eligible for a special discount of up to $675.
For the Media
Members of the media are invited to cover the event. Interviews with TDWI spokespeople are available upon request.
Media passes are reserved for press representatives and analysts who can verify that their publication or organization regularly covers data warehousing, business intelligence, or related topics. Please note: media passes will not be issued to publishing, sales, marketing, advertising, public relations, or technical support staff from any organization.
To apply for a media pass, please send an email to bwoodbridge(at)tdwi(dot)org with the following information: name, title, company, email address, telephone number, dates of attendance, publication/website name (including website URL), and links to three articles/blogs/podcasts published in the last three months that cover business intelligence, data warehousing, or related topics.
About TDWI
For 20 years, TDWI has provided individuals and teams with a comprehensive portfolio of business and technical education and research about all things data. The in-depth, best-practices-based knowledge TDWI offers can be quickly applied to develop world-class talent across your organization's business and IT functions to enhance analytical, data-driven decision making and performance. TDWI advances the art and science of realizing business value from data by providing an objective forum where industry experts, solution providers, and practitioners can explore and enhance data competencies, practices, and technologies. TDWI offers five major conferences as well as topical seminars, onsite education, membership, certification, live webinars, resourceful publications, industry news, and in-depth research. See tdwi.org or follow us on Twitter @TDWI.
About 1105 Media
1105 Media, Inc., is a leading provider of integrated information and media in targeted business-to-business markets, including specialized sectors of the information technology community; industrial health, safety, and compliance; security; environmental protection; and home healthcare. 1105's offerings span print and online magazines, journals, and newsletters; seminars, conferences, and trade shows; training courseware; and Web-based services. 1105 Media is based in Chatsworth, California, with offices throughout the United States.