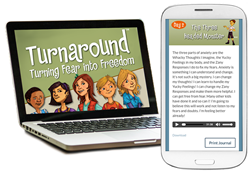 I have seen remarkable changes in my daughter's level of anxiety. Thank you!
Charlotte, NC (PRWEB) April 19, 2016
Parents of anxious children are desperate to find information that provides real solutions to help their children overcome their fears. Now, research published in the Behaviour Research and Therapy journal shows that using Turnaround: Turning Fear Into Freedom audio treatment program can significantly reduce a child's anxiety.
Turnaround: Turning Fear Into Freedom is an audio-based system where the entire treatment plan, using CBT, ERP, and ACT, is embedded within the audio program. The program is an adventure story where 6 anxious kids go on a 10-day hiking trip with Dr. David, Dr. Chris, Emily- who is a teen mentor- and a cast of imaginary characters. Each day is a lesson, 10 lessons in all, and a workbook are included with the program. With over 7,000 programs sold worldwide, Turnaround has already shown its effectiveness in the marketplace. Now research supports it provides therapeutic results.
Here is a summary of the research findings:
Reduced a child's primary anxious symptoms by nearly 60%. Those in the control group (no therapy) only saw a 16% reduction in symptoms.
The results were long-lasting- Nearly 67% of the children treated reported reduced symptoms 3-months after study.
Treatment programs that include therapist support reduced anxiety by 75-95% and the authors of this study wonder if Turnaround might effect even greater improvement with similar support.
Upon completion, 25% of children were free of ANY anxiety diagnosis, compared to 0% of kids not treated. After 3-months, 42% of the children treated using Turnaround were free of ALL anxiety diagnoses.
Results showed treatment with Turnaround improved the child's overall functioning.
Reduced the parent's reporting of child's anxious symptoms. The parents could see their child improving.
Decreased the number of mental health diagnoses held.
Is in many cases more effective than computer-based and bibliotherapy (written material only) treatment programs. Those programs also have much higher dropout rates (14% and 32% respectively).
The research article concludes: "…this preliminary study suggests not only significant treatment outcomes, but also low rates of attrition and high levels of consumer satisfaction. The audio program is not intended to replace traditional face-to-face CBT interventions. However, it holds promise in terms of multi-platform dissemination of evidence-based CBT treatment for child anxiety. Overall, the audio program is a creative and innovative approach to the treatment of child anxiety, with the potential to reach many children currently suffering with anxiety disorders who are not accessing help" (Behaviour Research and Therapy Journal, 79 (2016), 34-45, p44.).
Professionals: The Turnaround: Turning Fear Into Freedom audio program is currently used by hundreds of licensed mental health professionals worldwide and the authors note that the efficacy rate of comparable programs can be between 75%-95% with therapist support. We have special packages available just for professionals.
To learn more about the Turnaround program, visit turnaroundanxiety.com.