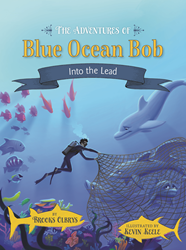 On a beautiful isle in the sea of Kerchoo, there lived a small boy with a big job to do.
New York, New York (PRWEB) April 19, 2016
What if children's books could help teach our kids fundamental principles for life-long success? This is the question that author, attorney, business owner and father, Brooks Olbrys asked over six years ago when he began writing The Adventures of Blue Ocean Bob books for children. Inspired by his young son and encouraged by author and speaker Bob Proctor, Olbrys created a series of colorful, rhyming books that introduces children to timeless achievement principles wrapped in an oceanic "hero's journey." Olbrys distilled the lessons in the books from the teachings of experts on personal achievement including Bob Proctor, Earl Nightingale, Napoleon Hill, and Wallace Wattles.
In the latest book in the series, The Adventures of Blue Ocean Bob – Into the Lead, Blue Ocean Bob progresses from a job as an assistant marine biologist into a new leadership role on the island and learns valuable lessons about courage, creativity, decision-making, action and leadership. After an earthquake hits, Bob faces a series of new challenges on his quest to protect the surrounding sea and its creatures and turns to Doc the turtle, Wallace the walrus and Earl the clam for sage advice and guidance. But when his mentor, Mary Marine, is called away to a distant island, Bob puts his fears aside and steps into Mary's shoes.
Distinguishing the series, Olbrys says, "Blue Ocean Bob books substitute worldly and aquatic challenges for evil forces or characters. Instead of facing villains or fighting battles, Bob must overcome his own fears, and the doubts of his hummingbird companion Xena, each time he confronts a new challenge."
The Adventures of Blue Ocean Bob series has received praise from national reviews and leading experts on personal development, including:
"This insightful story invites us to journey with its characters, to learn with them. It is an inspiration for all ages!"
--Independent Publisher (IP Notable)
''This excellent juvenile marine educational series works well on dual levels, to increase awareness of the need for marine stewardship and to work towards a goal using varied resources and keeping a positive attitude.''
-- Midwest Book Review
"…a series that is sure to prevail."
-- Foreword Reviews
''Blue Ocean Bob provides young minds with positive precepts and powerful lessons that will serve them for the rest of their lives.''
--Bob Proctor, bestselling author of You Were Born Rich
"… a truly amazing and creative 'hero's journey' for children."
--Mary Morrissey, best-selling author of No Less Than Greatness and Building Your Field of Dreams
Fun and impactful, The Adventures of Blue Ocean Bob - Into the Lead and the entire series offer:

Access to fundamental achievement principles for children ages 6 to 10
Engaging rhyme and colorful illustrations for the whole family to enjoy
Stories that foster an appreciation for the ocean and marine life
Power through a positive mindset, creative thinking and good decision-making
And much more!
About the Author: A graduate of Stanford University, the Fletcher School of Law and Diplomacy at Tufts, and the University of California at Berkeley School of Law, Brooks Olbrys is the founder of Children's Success Unlimited and a managing director at investment bank Ion Partners. He lives with his wife and son in New York City.
About the Illustrator: Kevin Keele is currently an artist for Disney Interactive Studios. His work has been featured in numerous picture books, magazines, board games, and video games. He lives in Utah with his wife and two sons.
The Adventures of Blue Ocean Bob – A Journey Begins was the 2015 Next Generation Indie Book Award Winner in Juvenile Fiction and a 2013 Foreword Reviews' Book of the Year INDIEFAB Finalist. The Adventures of Blue Ocean Bob – A Challenging Job is a 2015 Foreword Reviews' Book of the Year INDIEFAB Finalist.
The Adventures of Blue Ocean Bob books are available at BlueOceanBob.com, Amazon.com and Barnes and Noble. A Parent and Teacher's Activity Guide, eBooks and iTunes apps are also available.