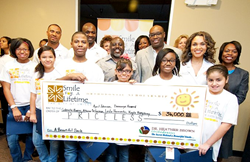 "When you treat kids who did not expect it ... their joy is immense." — Donald Montano, DDS
Colorado Springs, CO (PRWEB) April 28, 2016
Smile for a Lifetime (S4L) Foundation, a non-profit organization that provides orthodontic scholarships to children whose families are financially challenged, will be holding an online auction fundraising event starting Friday, April 29th through May 2nd. During this time, S4L will also have a booth, #1511, at the American Association of Orthodontists conference in Orlando, Florida where those attending can visit and find out more about S4L and the fundraising event.
S4L's mission is to "…create self–confidence, inspire hope and change the lives of children in a dramatic way..." through the gift of a smile. Created by Dr. Benjamin Burris in 2009, the program serves children between the ages of 11-17 who are in need of orthodontia but whose families can't afford the care.
Chapters are started by a local orthodontist who recruits a board of directors from the community to serve as a screening committee for applications. Applicants are scored based on several factors. Scholarships are then awarded by the board to qualified applicants.
Dr. Robert Sheffield of Antioch, California created his chapter in 2011 and has awarded over 65 scholarships to date. "Starting a chapter of Smile for a Lifetime has, without a doubt, been the accomplishment I am most proud of. The opportunity to provide the gift of smiles to patients who believe orthodontics remains beyond their grasp is immensely fulfilling. To have a group of patients, whose best day is getting braces on, not off, reaffirms the impact we can have on the lives of others. We really do have the opportunity to change lives, one smile at a time."
The average scholarship is worth $6000.00 but some children may receive additional work of over $10,000.00. Two S4L scholars, born with genetic disparities, received over $50,000.00 in donated dental & orthodontic services including surgeries and implants. In those two instances, the dental communities and supply companies rallied to work with the local S4L chapter to make each child's dream of a perfect smile come true! One scholar is currently enrolled at a dental assistant program at their local community college with the purpose to serve others who suffer with dental issues once they graduate.
Most chapters require that scholars commit to volunteerism within their communities through a "pay it forward" program. Scholars are allowed to choose where they want to serve or are encouraged to create a project to serve others in their communities.
Addy, a new S4L Scholar recently posted the following message on S4L's Facebook page, "Last week I got my braces through the Smile for a Lifetime program. Thank you SOOOOOOO MUCH!!!! I don't know what I would do without you! My ugly teeth are already changing into a beautiful smile. THANK YOU! So if anyone sees this comment please, please donate to the Smile for a Lifetime program, even if it is just a penny, every penny counts!!! Thank you, I could NEVER thank you enough!!! Truly!
All proceeds from the online auction will help Smile for a Lifetime increase their outreach to serve more children. CLICK HERE to register or the event or go to http://www.S4L.org to find out more about Smile for a Lifetime and locate a chapter near you.