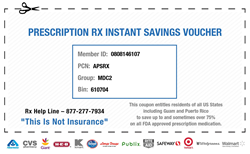 Atlantic City, NJ (PRWEB) April 19, 2016
Over 400,000 Americans live with Multiple Sclerosis (MS) every day. There are an estimated 10,000 new cases diagnosed each year. New therapies that slow the progression of this debilitating disease are beginning to give patients hope. But reversing the damage done by MS is impossible so far; and researchers continue to search for a cure. Medicationdiscountcard.com offers free coupons to help off-set the enormous expense of this devastating disease.
MS Symptoms and Diagnosis
The Central Nervous System (CNS) is made up of the brain, spinal cord and nervous system. This complex system regulates almost every function of the human body. MS attacks the CNS in an as-of-yet unknown way.
MS is thought to be linked to a chaotic autoimmune response. The human immune system attacks the body directly, rather than invading pathogens (bacteria and viruses). This damages nerves responsible for correctly relaying messages to different parts of the body. Researchers also believe environmental factors and genetic predispositions affect a patient's likelihood of developing MS.
Because the CNS is responsible for correct functioning of so many systems in the human body, the onset of MS has a host of possible symptoms. Some of the most commonly documented are: loss/blurred vision, fatigue, numbness, muscle spasms, mobility issues, dizziness, bowel problems, pain and cognitive changes in brain function.
Disease-Modification Therapy
There are multiple types and stages of MS. The four main types are: Relapsing-Remitting MS (RRMS), Secondary Progressive MS (SPMS), Primary-Progressive MS (PPMS) and Progressive-Relapsing MS. Each is diagnosed and treated based on complex remission and progression rates.
The FDA recommends disease-modifying therapy to manage the symptoms and progression of the disease. This includes a lengthy list of medications and therapies that are intended to slow the degeneration of the CNS over time.
Anyone may freely print coupons from Medicationdiscountcard.com to reduce the costs of these expensive disease-modification medications. Some examples are:
Injectables: Betaseron, Glatopa, Extavia, and Avonex.
Oral Medications: Gilenya, Tecfidera and Aubagio.
Medication Infusions: Novantrone and Lemtrada.
MS affects more young people in the world than any other neurological disease. Estimates place the number of those suffering with MS across the planet at around 2.5 million. Patients struggle with the disorder for the duration of their lives, often spending tens of thousands of dollars per year to pay the costs of doctors, hospital visits and medications.
Note: The information above is intended to supplement, not substitute for, the expertise and judgment of your physician, pharmacist or other healthcare professional. It should not be construed to indicate that use of the drug is safe, appropriate, or effective for you. Consult your healthcare professional before using this drug.
About Medicationdiscountcard.com
Medicationdiscountcard.com was started to provide discounts on prescription drugs to those who need it most. Our goal is to provide you with the largest savings possible when compared to other cards. We invite you to compare the savings our card will provide to that of other leading providers.