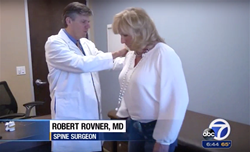 Danville, CA (PRWEB) April 15, 2016
Danville, CA spine surgeon Robert A. Rovner, MD says a new clip-like device named Coflex can be an alternative to spinal fusion for many people who are suffering from the pain of spinal stenosis. In a recent story featured on KGO 7 (ABC) News San Francisco Dr. Rovner and his patient Kim share her story on how she developed pain that radiated from her lower back down to her legs, a symptom which is typical of stenosis. Dr. Rovner diagnosed Kim with lumbar spinal stenosis which caused her lower back to become unstable, creating pressure on surrounding nerves. Link to the video: https://youtu.be/pUzc65PGcgQ
Spinal stenosis is usually treated with a procedure called a "laminectomy" to decompress the nerves, combined with spinal fusion to stabilize the spine. Instead, Dr. Rovner determined that Kim would benefit from a less invasive procedure using  a clip-like device called "Coflex" which is made of titanium. "The Coflex device was implanted to hold the vertebrae in position while allowing them to flex, which preserves range of motion in Kim's back. The Coflex is used instead of fusing the vertebrae together," says Dr. Rovner.
"The rapid recovery and return to function with Coflex is something that I'm not used to seeing with patients in whom I've done either a simple laminectomy alone or laminectomy combined with fusion," says Dr. Rovner. "A recently published five-year randomized prospective outcome study of laminectomy and Coflex patients shows outcomes equal to or better than patients who were treated with a combination of laminectomy and fusion. Additionally, there were fewer revision surgeries necessary in the Coflex group during the five years of the study." (International Journal of Spine Surgery, Michael Musacchio, MD - source:http://ijssurgery.com/10.14444/3006)
The Coflex clip is placed immediately after a laminectomy is completed. "Recovery using the Coflex is much faster," says Dr. Rovner. "Patients with more advanced stenosis may not be candidates for the Coflex implant and may require more extensive surgery or fusion, so it's important to consult with a board certified spine surgeon who offers several alternatives for treatment depending on each patient's condition." 
For more information on non-surgical therapies and surgical treatment for back or neck pain and injuries call the office of Robert Rovner, MD at Disc & Spine in Danville, CA at 925.275.0700, or visit http://www.DiscAndSpine.com