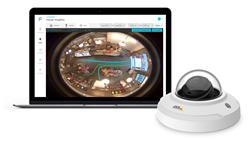 The Prism-enabled Axis cameras offer cost effective, camera-to-cloud connectivity, and drastically expand data collection and insights for any store.
San Francisco, CA (PRWEB) April 18, 2016
Today Prism and Axis Communications shared details from their latest partnership, which brings an all-in-one IoT-managed video and analytics solution to retail customers. Retailers will now have access to the Prism suite of software directly through the new AXIS M30 line of cameras, one of the most widely adopted camera offerings in the retail space.
"Retailers move quickly and don't always have time to deal with complex technology decisions," said Hedgie Bartol, Business Development Manager, Retail, Axis Communications, Inc. "This partnership is a win for customers because it combines cost-effective and easy-to-install hardware with award-winning software that extends surveillance cameras into multiple retail functions and also unlocks new value for retailers."
The AXIS M30 Series is priced starting at $199, and supports the full Prism platform, including heat and pathmapping, counting, traffic mapping and dwell. Prism combines insightful visualizations of store data with unique privacy-protection features that enable cameras to gather meaningful information without infringing on customer privacy.
"Cameras have a view into virtually everything that's happening within a store," said Bob Cutting, Co-founder and COO at Prism. "Which is why retailers are demanding camera platforms that can extend beyond security to deliver relevant data across multiple departments and functions. The Prism-enabled Axis cameras offer cost effective, camera-to-cloud connectivity, and drastically expand data collection and insights for any store."
Many of the world's most recognizable brands have deployed Prism to augment loss prevention, operations and visual merchandising efforts using the data gathered by store cameras and visual sensors. Download our latest white paper to learn more about how Prism is reimagining cameras as data-rich IOT sensors and reshaping the role of the visual merchandiser with data collected from store cameras and connected devices.
In addition, Prism will also be rolling out a lightweight visual merchandising solution that will be accessible on earlier models of Axis cameras leveraging ARTPEC processors. These new features, including Prism's remote visual access, are made possible through the AXIS Camera Application Platform (ACAP), which enables Application Development Partner (ADP) members to develop applications for the Axis network of devices.
Prism and Axis Communications will be showcasing the retail solution at the RILA Asset Protection Conference in Dallas, Texas. To see a demo of the platform and learn more about the new line of Axis cameras, stop by the Prism booth #119.
About Prism 
Prism transforms video cameras into IoT tools with remote access and built-in analytics for understanding movement, interaction, and activity in any brick-and-mortar space. Prism has been deployed by over 350 customers in 80 countries, and has tracked over 2 billion customer paths and interactions. Prism partners with leading camera and device manufactures to create a robust ecosystem of hardware that are Prism-enabled with minimal configuration. To learn more about Prism visit http://prism.com.
About Axis Communications
Axis offers intelligent security solutions that enable a smarter, safer world. As the global market leader in network video, Axis is driving the industry by continually launching innovative network products based on an open platform - delivering high value to customers through a global partner network. Axis has long-term relationships with partners and provides them with knowledge and ground-breaking network products in existing and new markets. 
Axis has more than 2,100 dedicated employees in 50 countries around the world, supported by a network of over 80,000 partners. Founded in 1984, Axis is a Sweden-based company listed on NASDAQ Stockholm under the ticker AXIS. For more information about Axis, please visit our website http://www.axis.com. Follow us on twitter @axisipvideo.
For further information about Prism, please contact:
Whit Moses or Jaimie Hwang, Prism
Phone: (415) 704-8762
Email: press(at)prism.com
For further information about Axis Communications, please contact:
Kristin Albano, Axis Communications, Inc.
Phone : 978 614 3089
Email: kristin.albano(dot)axis.com