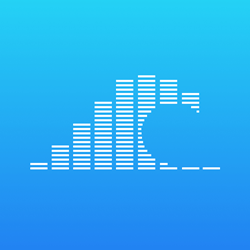 "WAV brings discovering and curating music from an algorithm to a fundamentally human experience"
Orange, CA (PRWEB) April 19, 2016
The new startup company WAV, based out of Orange County, Ca, will be launching their minimum viable product on Saturday, April 16th.
WAV promises to deliver the social media for music that everyone has been waiting for by offering a simple interface that allows users to share music like they would share thoughts on Twitter or photos on Instagram.
The focus of WAV is on the listener, not the creator. WAV users will be able to make "waves", a piece of content that is a shared track paired with commentary by the user. Instead of trying to create its own ecosystem like other streaming services, WAV is strictly a social media for music discovery and discussion, powered by the existing streaming service libraries. WAV is launching with Spotify and SoundCloud's APIs, but plans to bring on Apple Music, Tidal, Google Play, and BandCamp as soon as possible.
The company is launching at an interesting time in the music industry. Streaming services are battling to be the number one streaming service for consumers, seeing the potential in the long term for the monthly subscription fee. This battle for the attention of the 2016 music consumer has been coined the "streaming wars."
Jenner Chapman, founder and CEO of WAV, Inc has his prediction. "The social, sharing side of music is huge. Just look at the music festival attendance growth across the globe in the last 10 years. As a population, we love to enjoy music together." Jenner continues about where he sees WAV in the industry. "My biggest hope is that WAV and the existing streaming services can work together. WAV is only as powerful as the music streaming services behind it. We do not want to compete in providing music to the consumer, we just want to bring people together by helping them share and discuss the music from the existing streaming services. In fact, we believe that WAV will drive more people to get a premium streaming service if they do not already have one, positively impacting the industry."
WAV brings discovering and curating music from an algorithm to a fundamentally human experience. WAV has created music's first true social media. No matter what happens, the new wave of music sharing is here.
To learn more about the app and the companies story, visit wavmusicapp.com