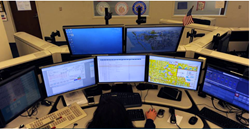 Seconds literally save lives, and we can now respond faster and with greater precision thanks to our new 911 systems.
Exeter, RI (PRWEB) April 15, 2016
Carousel Industries, a leading provider of communication and network technologies and managed services, recently completed a significant upgrade in Manatee County, Fla. to provide the county and its residents with a next-generation 911 call processing solution. Based on their 911 system knowledge and support expertise, Manatee County selected Carousel to strengthen public safety communications and capabilities in the community.
The Manatee County emergency communications system comprises four public safety answering points (PSAPs), which serve the area's 350,000 residents. In total, the county has approximately 45 call taking positions that process more than 250,000 emergency calls annually.
"Carousel Industries helped us develop a new overall blueprint for public safety communications and ensured a fast and seamless implementation," said Bob Smith, Director of Public Safety, Manatee County Government. "With the new emergency call handling system, we have significantly upgraded and enhanced our ability to deliver superior public safety services to Manatee County residents. Seconds literally save lives, and we can now respond faster and with greater precision thanks to our new 911 systems. We are confident that we can continue to provide dependable and responsive service to our community now and into the future."
With this new system, Manatee County 911 can provide faster and more accurate emergency services, leading to less dropped calls, faster deployment of emergency service providers – ultimately saving lives. Dispatchers will start receiving text messages and, eventually will be able to receive photos and videos from cell phones. New legislation will have to be in place for this new functionality, but once in place, Manatee County is poised to immediately take advantage.
Carousel Industries has handled maintenance and support for Manatee County since late 2014. It was awarded the contract for the replacement of Manatee County's legacy 911 call handling system in 2015 and developed the complete roadmap for the next-generation 911 system implementation. Carousel specified the hardware and software solutions for the Manatee project and handled implementation, installation, project management and support.
"Manatee County required a highly complex, advanced data network to connect its 911 system, which involves multiple buildings and remote locations all across the county," said Daniel Grossman, Director, Public Safety Systems, Carousel Industries. "Based on Carousel's 911 and public safety systems planning and road mapping experience, relevant project management expertise and commitment to delivering superior public safety programs, we have been able to deliver a highly redundant, resilient system that minimizes downtime, enabling Manatee to answer 911 calls faster."
About Manatee County's New 911 System
The new 911 system is geo-diverse, with the four separate locations supported by two systems that can operate the entire 911 network independently should one fail during large-scale emergencies, such as hurricanes. It also now has a more easily managed real-time failover capability should that be required. Also, the system features an intuitive user interface, which makes it easy for call takers to quickly change locations, monitor and respond to calls in queue, countywide. Finally, the new system provides Manatee County to add next-generation technologies and capabilities such as analytics, body cameras for first responders and more comprehensive, sophisticated video surveillance systems.
About Carousel Industries
Carousel Industries is a recognized leader in helping organizations evolve the way they communicate and orchestrate the flow of information throughout their networks. Carousel enables clients to connect and collaborate the way modern IT users demand and advance from their current network infrastructure to meet tomorrow's standards. With deep expertise across a vast portfolio of communication, network, and security technologies, Carousel is able to design, implement, and support solutions tailored to meet the unique needs of each customer. By offering professional and managed services with flexible deployments in the cloud, Carousel ensures clients achieve agility and utilize technologies in the way most effective for their business.
Since 1992 Carousel has grown by an average of 30 percent annually and today has more than 6,000 customers, including 35 of the Fortune 100. The company has been widely recognized by multiple leading industry publications and consortiums as a top technology partner, managed service provider, and cloud solution provider. It has made the Inc. 500/5000 list of the fastest-growing privately-held companies in the U.S. seven times overall. Headquartered in Exeter, RI, Carousel has more than 1,000 employees working in 30 locations across the U.S. For more information on Carousel's Public Safety Practice, please visit: http://www.carouselindustries.com/industry-solutions/public-safety.
# # # #
Contacts:
Kirsten Paragona
Carousel Industries, Director of Marketing
978-778-4892
Kirsten.paragona(at)carouselindustries(dot)com