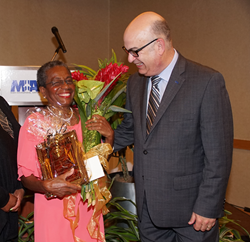 "What really separates great airports from good airports is their level of customer service, and our 75 volunteers are a big part of our effort to deliver world-class service at MIA,"said Miami-Dade Aviation Director Emilio T. González.
Miami, Florida (PRWEB) April 15, 2016
Coconut Grove resident Aileen Neal, who has donated 3,000 hours of her time since 2009 to helping passengers make their way through Miami International Airport, was named MIA Volunteer Ambassador of the Year at the airport's annual Volunteer Ambassador Recognition Gala on April 14. For her service, Aileen received two tickets from American Airlines to travel anywhere in the continental U.S., the Caribbean, Canada or Mexico.
Aileen usually staffs the information counter in the Concourse D international greeter's lobby, and is known for going above and beyond the call of duty, often loaning her cell phone to frantic travelers who can't find the person picking them up. She recently drove a couple to a nearby shopping mall – after her regular shift, no less - because they needed courier service during their layover. She is familiar with international customer relations, having worked as the office manager for the Honorary Consul of Belize in Miami for nine years before volunteering at MIA. She also has a wealth of experience helping people in need, having been an early childhood teacher and volunteer with domestic violence victims in her native Belize. Her community service continued when she moved to Miami and became a volunteer at Chapman Partnership and at MIA.
Three other volunteers who have logged 4,000 or more hours at MIA - Carol Dunstall, Ray Simpson and Anwary Zaki – were presented with the President's Lifetime Achievement Award, which is the highest honor available for volunteers in the United States. Dunstall was MIA's 2010 Volunteer Ambassador of the Year and Simpson won the award in 2011. Jeff Wander, a Vietnam War veteran who now serves as an MIA Volunteer Ambassador, also received a meritorious achievement award for serving as an Elite Guardian during MIA's second annual Honor Flight on April 2. The Honor Flight, in partnership with Honor Flight South Florida and Eastern Air Lines, provided 77 World War II veterans a trip from MIA to Washington D.C.'s war memorials established in their honor. This year, Vietnam War veterans served as Elite Guardian escorts for the World War II veterans.
This year's award winners are among MIA's 75 volunteers who have provided nearly 14,000 hours of service to travelers at information counters and with trolley service throughout the airport. Collectively, MIA's volunteer ambassadors represent more than 30 countries and speak 20 languages, and include former educators, military veterans, engineers, nurses and airline employees.
"Aileen is more than deserving of our Volunteer of the Year award, and we are extremely proud of all our volunteer ambassadors who donate their time and energy to enhance the passenger experience at our airport," said Miami-Dade Aviation Director Emilio T. González. "What really separates great airports from good airports is their level of customer service, and our 75 volunteers are a big part of our effort to deliver world-class service at MIA."