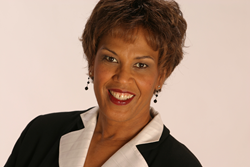 "The Emmanuel community is delighted to welcome Reverend Liz Walker and Patricia McGuire to campus as the Class of 2016 prepares to translate their talents and training into meaningful careers."
Boston, Massachusetts (PRWEB) April 15, 2016
Reverend Liz Walker and Patricia A. McGuire will both be honored during Emmanuel College's 2016 Commencement Exercises on May 14. Reverend Liz Walker will deliver the 2016 Commencement address and receive an honorary degree. Emmanuel will bestow an honorary degree on Patricia A. McGuire, president of Trinity Washington University. The Commencement Ceremony will celebrate the accomplishments of new Emmanuel graduates as they join a global network of loyal alumni who maintain lifelong connections to the College.
"The Emmanuel community is delighted to welcome Reverend Liz Walker and Patricia McGuire to campus as the Class of 2016 prepares to translate their talents and training into meaningful careers," said Sister Janet Eisner, SND, president of Emmanuel College. "Reverend Walker and Patricia McGuire offer extraordinary examples of strong leadership that will serve as inspiration for our graduating students."
Reverend Liz Walker
Reverend Walker is an ordained minister in the African Methodist Episcopal tradition and has served as the Pastor of the Roxbury Presbyterian Church since May 2014. A veteran television journalist, Walker was Boston's first African American television news anchor and was a mainstay at WBZ-TV for 21 years. In addition to her work as Pastor, Walker is a community activist, documentary film producer and co-founder of the humanitarian organization My Sister's Keeper, which focuses on economic and educational initiatives for Sudanese women and girls. She has won two Emmy Awards and was inducted into the Massachusetts Broadcasters Hall of Fame in 2007. Her coverage of the plight of children displaced during the Sudanese Civil War led to an Edward R. Murrow Award from the Radio Television Digital News Association in 2002. She holds a master's degree from Harvard Divinity School and a bachelor's degree in communications from Olivet College in Michigan.
Patricia A. McGuire
Since her inauguration as President of Trinity Washington University in 1989, Patricia McGuire has enhanced the Washington, D.C. institution's academic offerings and nearly doubled its enrollment. She also oversaw Trinity's transition from a college to a university in 2004. President McGuire is a nationally recognized writer and speaker on topics concerning higher education, women and Catholic education. Her articles have been published in The Wall Street Journal, The Washington Post and The Baltimore Sun. She was honored with the Carnegie Corporation's Award for Academic Leadership in 2015 and the Henry Paley Award from the National Association of Independent Colleges and Universities in 2012. She was also named "Leader of the Years" by the Greater Washington Board of Trade in 2007, and one of Washingtonian Magazine's "100 Most Powerful Women" in 2006. She holds a law degree from Georgetown University and a bachelor's degree from Trinity.
About Emmanuel College
The only Catholic college in the heart of Boston, Emmanuel educates and inspires more than 2,200 undergraduate and graduate students from across the nation and around the world. The College provides boundless opportunities for students to expand their worldview through rigorous coursework, collaborations with distinguished and dedicated faculty, participation in a vibrant campus community, and countless internship and career opportunities throughout the Boston area and beyond. Emmanuel's more than 50 programs in the sciences and liberal arts foster spirited discourse and substantive learning experiences that honor the College's commitment to educate the whole person and provide an ethical and relevant 21st-century education. For more information, visit http://www.emmanuel.edu.