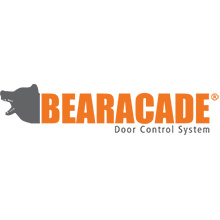 The Bearacade Door Control System is meant to hang next to a classroom door, where it can be deployed in seconds and prevents the door from opening in either direction.
Hudson, Ohio (PRWEB) April 15, 2016
In the coming weeks, Bearacade Door Control System will be featured in a special documentary on "Voices In America" hosted by James Earl Jones. This program educates and communicates the most crucial stories through its documentaries.
Bearacade Door Control System is a device that fits on interior doors to prevent a door from opening in either direction and provides protection to individuals from a hostile intruder. Due to the increasing amount of school shootings, this device is adding security and protection to many school districts.
The focus of the documentary will be on the origination, manufacturing and use of Bearacade lockdown response systems and will give an inside look at the system in action at Hudson City School District.
"I would like to extend a special thank you to the City of Hudson, Hudson City School District, Hattie Larlham, Design Molded Plastics and everyone who contributed to this documentary," said Bill Cushwa, Bearacade Founder and CEO. "It is with great pride to introduce this product to school districts and add to the safety of individuals."
Bearacade Door Control System's has been touted by both police and school superintendents as being fast, effective and easily identifiable. The unit features a reflective External Notification Panel™ to alert and guide administrators and safety forces that the device is deployed. Once in place, the patent-pending Bearacade® can withstand 4,800 pounds of external force.
Bearacade Door Control System was developed as a response to the inability to effectively barricade classrooms during hostile situations. Bearacade provides an added layer of school safety, in addition to standard lockdown procedures like ALICE training. If evacuation is not possible, taking shelter-in-place and utilizing Bearacade is much more effective and safer than trying to create a make-do blockade.
The documentary will begin airing across the country on PBS.
For more information about Bearacade or to see how the system works, please visit doorbearacade.com.
About Bearacade: Created and produced in Ohio by state natives Bill Cushwa and Dave Soulsby following the tragic events of the 2012 Chardon High School shooting, Bearacade Door Control System was developed as a device intended to slow or prevent a door from being opened. Bearacade is designed for the rare, short-duration moments of a hostile intruder when it's safer to take shelter than evacuate. The Bearacade Door Control System is the only device that has external notification for police and emergency services personnel to know who has been barricaded or not.