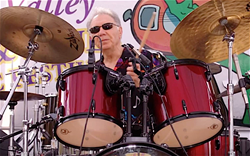 Dental implants can replace teeth lost to disease or accident which can avoid potentially serious dental and general health problems.
Oxnard, CA (PRWEB) April 15, 2016
Adolfo "fito" de la Parra is the drummer for Canned Heat, the legendary blues-rock/boogie band and an author of "Living the Blues", a book that tells the band's story. As a successful musician Adolfo travels extensively. Recently, while on a road trip with the band he developed a severe infection in his upper jaw. "Unfortunately, I didn't take the time to take care of myself, and I ended up losing a good portion of my teeth," he says. "When I finally returned from the tour I went to see an oral surgeon, thinking I might need a few implants and maybe a bridge, but the surgeon recommended a full mouth reconstruction and referred me to Dr. Saj Jivraj at Anacapa Dental Art Institute."
"When teeth are lost due to disease or accident it is very important to replace them as soon as possible to avoid potentially serious dental and medical issues," says Dr. Jivraj. "Each tooth plays a key role in the mouth, so it's critical to replace missing or compromised teeth with dental implants to prevent more serious dental and general health issues from occurring. We gave Adolfo a new smile with a full mouth reconstruction using advanced dental implants to replace his lost and unhealthy teeth."
"Dental implants can be placed with computer guided technology for precise placement. In addition, our use of CAD CAM technology allows more comfortable delivery of these restorations," says prosthodontist Dr. Mamaly Reshad of the Woodland Hills location of Anacapa Dental Art Institute.
"The loss of a tooth or the inability of teeth to perform their natural functions can severely affect a person's eating patterns, self-confidence and appearance," says Dr. Jivraj. "Missing teeth and gaps in the mouth can distract from an otherwise beautiful smile. Dental implants offer a permanent replacement that appears natural and preserves oral health."
"Permanent implants are the best way to fill the gaps left by lost teeth for the majority of patients," says Dr. Reshad. "The implants are placed into the jawbone where the tooth or teeth were lost, and after the bone heals around each implant a natural-looking tooth is attached. At Anacapa Dental Art Institute computer aided design and computer aided manufacture (CAD CAM) teeth can be made right in the office and replaced the same day."
For more information on the latest advances in dental implants,full mouth reconstruction and cosmetic dentistry visit http://www.anacapawoodlandhills.com and call 818.888.3750. Anacapa Dental Art Institute is located in the Los Angeles area (Woodland Hills) and in Oxnard, CA. For Oxnard, Ventura and nearby cities call 805.472.3785 and visit http://www.anacapadental.com