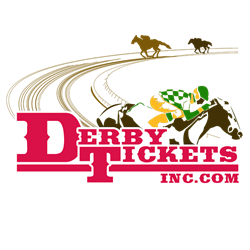 The Greatest Two Minutes in Sports.
Louisville, KY (PRWEB) April 15, 2016
DerbyTicketsInc.com is a Louisville, KY area travel and tourism company that specializes in providing Kentucky Derby and Kentucky Derby. Derby Tickets, Inc. is devoted to providing the ultimate experience to horse racing fans around the world.
The team at DerbyTicketsInc.com has over 50 years of combined experience providing tickets, packages, and custom experiences for the Kentucky Derby. Unlike many companies, DerbyTicketsInc.com specifically focuses on the Kentucky Oaks and Kentucky Derby year round. Giving them unprecedented access and knowledge to the event.
The company is able to provide Kentucky Oaks Tickets and Kentucky Derby Tickets in all areas of the track at Churchill Downs. The experience at the Kentucky Derby will differ from Infield to the luxury Mansion.
Derby Tickets, Inc can provide just tickets; they also offer Kentucky Derby Packages with hotel, luxury home, or the charm of a bed and breakfast along with the tickets. The company provides packages and accommodations for visitors coming into town from all over the world. They can provide a package for any size group with any size budget; from Fortune 500 sales incentives to a couple marking off a bucket list.
Along with tickets and packages they provide additional services such as Private Transportation, Kentucky Derby Party Tickets, and Kentucky Derby Tours to historic bourbon distilleries and champion horse farms. The additional services put a cherry on top of the experience.
With a large portfolio of services, the company can customize the trip from the moment travelers get in town to the minute they leave. Being a local travel events company, they have experienced the excitement of the Kentucky Oaks and Kentucky Derby many times. The team can provide information on exactly what to expect, and the sites to see to make the trip more memorable. After the trip, visitors truly understand why Louisville is the only city that celebrates for two weeks for "The Greatest Two Minutes in Sports."
DerbyTicketsInc.com strives to provide the best customer service in the industry while providing the ultimate Kentucky Derby Weekend experience. Visit the website at http://www.derbyticketsinc.com or call at 1-844-593-3729; and get ready to partake in a traditional Mint Julep, mingle with celebrities, enjoy the beautiful pageantry, and cheer-on the favorite horse as everyone joins in the singing of "My Old Kentucky Home."