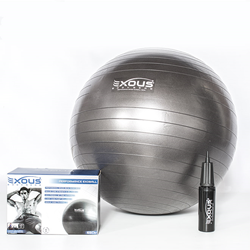 Consumers can start using our 65cm exercise ball with a system to improve their fitness level straight out of the box, which we hope will help educate individuals on the importance of having good core strength thereby helping reducing potential injuries.
Chicago, IL (PRWEB) April 18, 2016
Named the Performance Exoball which is Exous Bodygear's iteration of a typical 65cm exercise fitness ball. The product has been made to a premium quality with extra thick 1200 gram weight eco-friendly non slip PVC, is anti-burst rated to 440lbs and is both 6P free and heavy metal ion free. The ball is expected to be available in April 2016 through Amazon.com.
The Performance Exoball is a 65cm exercise ball which boasts some premium and eco-friendly features has been designed for the consumer to be able to have a complete core training package straight out of the box they can use in the comfort of their own home or place of work. The Online videos will have professional advice and training with Olympian Nick Buckfield who brings 20 years of elite level track and field core and functional training to give consumers a real solution to improve their own core strength levels which can help avoid back pain and associated injuries. Made with premium grade extra thick PVC with special attention to the texture of the material ensuring it has a nonslip feel for the extra piece of mind when using the exercise ball on wooden or slippery surfaces along with a concern to make it eco-friendly. The Exercise Ball material is 6P free which means it has the 6 most common phthalates at less than <0.1% in the makeup of the material. It also contains no heavy metal ions in the composition.
What consumers will enjoy from the EXOUS performance exercise ball over standard exercise stability balls are the additional professional online core training videos that come with the exercise ball as a special bonus. These are emailed to the consumer once they purchase the ball. The videos complement the ball by giving consumers and users of the product immediate access to the exous bodygear members area which contains over 60 minutes of beginner to advanced core training video modules designed to make the most use out of the exercise ball.
The videos are presented by two-time former Olympic athlete Nick Buckfield who has represented Great Britain at the pole vault and is multiple British champion in the event. "We are a fitness brand dedicated to making the best products we can, where we can't change or improve on a concept of a product we always strive to add as much value and quality we can to it. In entering the exercise/swiss ball market we wanted to only use premium eco-friendly materials and collaborate with experts in the field of core training and fitness and we are doing just that with Nick Buckfield who brings his experience and knowledge in professional track and field workshops and training into our exercise ball package. Consumers can start using our 65cm exercise fitness ball with a system to improve their fitness level straight out of the box, which we hope will help educate individuals on the importance of having good core strength thereby helping reducing potential injuries associated with weak core stability. We feel adding this level of expertise and training makes our exercise ball package very unique and great value for the consumer." said M Kaur Brand manager from EXOUS Bodygear.
The Fitness ball package comes with a 2-way hand pump and videos which cover basic core stability exercises that brand-new people to this type of training or product can instantly absorb and use and also a range of step-up exercises going through intermediate to challenging advanced core training moves for even the most well-trained individuals. The topics covered in the videos are:

Posterior chain exercises
Shoulder rehabilitation work
Gluteal strengthening
Beginner kneeling exercises
Intermediate ab and core routines
Advanced plank and roll out exercises.
Decompression exercises
Stretching
Applications to different sports
The core stability training videos educate the user on which muscles and supporting muscles are used and how particular exercises can be used for different sports or activities of daily living creating a real connection to anyone wanting to follow the exercises in a meaningful functional way thereby understanding how to improve overall core and balance for their own needs.
The Performance Exoball will be competitively priced versus the market and will be sold on the amazon market place in both the US and Europe and will be available in the next few weeks.
About EXOUS Bodygear
EXOUS Bodygear not only makes the Performance Exoball, but are a sports and fitness brand dedicated to making high-quality functional products that meet the needs of the consumer. Our brand ethos is "different by design" we love making new and exciting products that have been designed to offer more function, features and value to what is in the marketplace already.