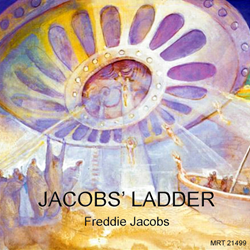 Gets around the horn with style and distinct creativity ~ Mark Goodale, Jazz Trumpet Journal
(PRWEB) April 18, 2016
Freddie Jacobs, Jazz Trumpeter, Composer and Educator has seen the music business from many sides. From touring with jazz legends Lionel Hampton, Buddy Rich, Eddie Palmieri and Jimmy McGriff, to performing around NY with the Sam Jones/Tom Harrell Band, Nina Sheldon, Judi Silvano, Pucho and the Latin Soul Brothers, and currently in South Florida with Tom Regis, Don Wilner, Stephen Scott, Felipe LaMoglia, Mike Orta, Mike Gerber, Emilio Valenzuela and the late Patti Wicks.
Freddie's current CD "JACOBS' LADDER" includes his original compositions: Journey thru Night, Dream Voyage, Kensha and For Real, and features - John DiMartino (p), Harvie S (bs), Yoron Israel (d), Adam Kolker (sx), Chris Washburne (tbn), Renato Thoms (perc).
Fred Jacobs, jazz trumpeter/composer, "sounds as bright and assured as Freddie Hubbard or Woody Shaw, but with verve and a smooth, fluent originality," Robert Spencer, All About Jazz.
"Jacobs displays a solid, straight up sound and compositional skills … he illustrates the idea that the trumpet's magic power is not limited to those who have gained sufficient recognition to make the covers of magazines" Norman Provizer, JAZZIZ
"Concentrates on melody, symmetry and beauty of tone rather than macho displays of speed, volume and pitch" Krin Gabbard, CADENCE.
"Gets around the horn with style and distinct creativity" Mark Goodale, JAZZ TRUMPET JOURNAL.
Besides his touring background, Jacobs has also made jazz education a distinct avocation.
"His exceptional experience brings insights to those students that normally wouldn't get the opportunity to learn jazz on this level. And the musicality on his recordings speaks volumes" says Jaijai Jackson of The Jazz Network Worldwide.
Having produced his albums TIME CHANGE, & JACOBS' LADDER, holding a BS degree, studies with Herb Pomeroy, John Harbison, Dan Ricigliano, Carmine Caruso, Lennie Johnson, Freddie Hubbard, & Eddie Daniels, all provide a wellspring of wisdom, whether it be in the studio or live performance. Teaching has always been a calling for Jacobs. It seems he is quite aptly suited to take this art to the young minds of today. Many jazz festivals of late utilize the educational platform as an extension of live performances. This is the type of setting that Jacobs thrives in, to teach a master class and then bring that expertise to the stage, showing the students how it is commanded in a live performance setting. Whether as a featured artist with a local band or bringing his own band, he currently seeks bookings for worldwide jazz stages teaching Jazz - Improv, Harmony, Ensemble Direction, Workshops and Clinics. Jacobs is a strong presence on the jazz trumpeting scene and is considered top shelf. He is looking to explore new horizons playing and teaching, passing on what he learned from the masters, the presentation of real jazz.
To learn more go to: reverbnation.com/freddiejacobsband. M/Art Music CD recordings"TIME CHANGE" (featuring Dave Kikosi, Rufus Reid, Bill Stewart, Scott Kreitzer) and "JACOBS' LADDER" are available on CD Baby and iTunes.