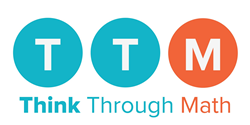 Under Jim's leadership, we will rapidly expand into more schools, districts and states.
Pittsburgh, Penn. (PRWEB) April 15, 2016
Think Through Learning, creators of Think Through Math, the award-winning web-based math instructional system for grades 3 and above, announced the promotion of Jim Martin to the role of Senior Vice President of Sales, responsible for leading the company's rapid expansion of its sales efforts in the K-12 and higher education markets. Martin replaces Traci Burgess, who is leaving the organization to take over the role of CEO for a data analytics company serving the K-20 education market.
Martin brings nearly 20 years of sales experience in both the K-12 and higher education technology markets, having held progressively broader executive roles within companies such as Blackboard, Cengage Learning and Parature. Prior to joining Think Through Learning, Martin served as a regional vice president within the Blackboard's K-12 division, where he was responsible for leading sales and client success teams for their learning management and communications product lines.
"I joined Think Through Learning because their passion for improving math achievement resonates strongly with me," said Martin. "Educators need partners like Think Through Math, which has a proven track record of delivering outstanding academic results for students. With Think Through Math's research-based program, schools and districts can significantly improve the math understanding of every student."
"Think Through Learning is making substantial investments to extend the reach of our sales force and we're very pleased such a strong sales leader is joining our executive team," said Kevin McAliley, CEO of Think Through Learning. "With more than 60% of all US students not proficient in math, Jim understands how to communicate to educators how Think Through Math's proven solution can be a game changer for their students. Under Jim's leadership, we will rapidly expand into more schools, districts and states by partnering with educators to implement our unique solution of online instruction and on-demand live tutoring."
With nearly three million students in more than 180,000 classrooms across the country, TTM is the fastest growing supplemental math program in the U.S. With customized versions for each state's learning standards, Think Through Math's lessons include a wide variety of interactive item types, ensuring students are well-prepared for the more sophisticated question types being used on state-level assessments. TTM's unique intrinsic and extrinsic motivational features increase engagement and build self-esteem so students increase their time on task. Think Through Math has received numerous awards since its introduction and is expanding rapidly across the US.
For more information visit http://www.thinkthroughmath.com.
About Think Through Learning & Think Through Math
Think Through Learning, a leader in education technology innovation, is transforming math education throughout the United States. While particularly effective as a remedial or intervention program for struggling students, Think Through Math's adaptive learning technology addresses the learning needs of ALL students, including students working at grade level, English Language Learners (ELL), those with advanced math aptitude, and students with learning disabilities.
Designed for grades 3 and above, Think Through Math is the only software system that integrates state-certified teachers who tutor struggling students live in order to improve their math understanding. Think Through Math ignites curiosity about math and helps students learn how to think mathematically. The 2014 and 2012 recipient, and currently a 2016 finalist for the SIIA CODiE Award for Best Mathematics Instruction Solution, Think Through Math is recognized as the fastest-growing supplemental math software. Since its launch in 2012, Think Through Math has become a critical part of the RTI, STEM, and 1-to-1 strategies of state education departments and thousands of districts and schools across the United States.