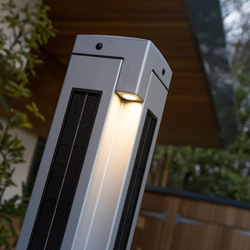 (PRWEB UK) 22 April 2016
The solispost illuminated bollard has just got brighter. A little over a year since the initial launch of solispost, advances in LED and solar panel technology has enabled the introduction of a Mark II product with a lamp that provides an even brighter, and whiter light.
The new LED lamp is manufactured by CREE, market leaders in the development and manufacture lighting class LEDs, and provides an impressive 180 lm/W and gives a whiter light. In addition, the standard light beam has been increased to 71°.
Solar powered lighting technology is developing rapidly and the solispost illuminated bollard itself is the result of over two years' prelaunch research and development, all of which was undertaken within the UK. The new, brighter lamp is a testament to the company's commitment to maintaining solispost's position at the forefront of technology and of adopting innovation and improvements in components as soon as they become available.
Since its introduction to market in early 2015, solispost bollards have been installed to provide lighting in many different types of locations including hotel grounds, crematoria, foot and cycle paths and along quaysides.
They are proving particularly popular where connection to a conventional fixed electricity power source is impracticable, providing lighting where it previously was not available.
The solispost's green credentials, which include zero energy running costs and minimal maintenance, have also proved attractive, along with its contemporary design and high quality of manufacture.
Solispost bollards are entirely solar powered and engineered to provide reliable, bright levels of lighting even during long periods of low sunshine levels such as during long northern winters.
The bollard provides two levels of illumination. From dusk till dawn, the bollard provides a continuous low level of lighting which is automatically increased when the bollard's sensor detects a person approaching. The higher level of illumination is maintained for approximately 20 seconds. As the pedestrian or cyclist passes a sequence of solispost bollards, each bollard increases its light level, providing a reassuring pool of light that moves along the pathway.
The two levels of illumination not only increase the solispost bollard's ability to maintain lighting when sunshine levels are low, it also minimises light pollution in countryside areas.
All solispost products are entirely manufactured within the UK. For full details, please visit https://www.solispost.com