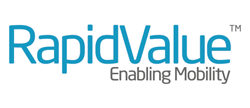 "We are proud to partner with Perfecto for automation & performance testing services. Using this feature-rich digital lab, our goal is to accelerate the release process and deliver high-quality applications to our customers." - Rajesh P, CEO, RapidValue
Pleasanton, California (PRWEB) April 16, 2016
RapidValue, a global leader in digital transformation for enterprises and Perfecto, the market leader in empowering enterprises to deliver high-quality digital experiences, today announced a go-to-market partnership. Through this partnership, both companies will strengthen test automation services to enhance digital experiences for customers.
"We are proud to partner with Perfecto for automation and performance testing services. Using this feature-rich digital lab, our goal is to accelerate the release process and deliver high-quality applications to our customers. I believe Perfecto's flexible enterprise-grade solution, their pursuit to integrate continuous quality practices into the SDLC, and their zero-day support for new devices and operating systems will appeal to new and existing customers." says Rajesh Padinjaremadam, President & CEO, RapidValue.
RapidValue, in collaboration with Perfecto, will support manual and automated application testing on real mobile phones, tablets, desktop and wearable devices, all accessible 24x7 through the cloud. Tests can run automatically in Perfecto's Continuous Quality Lab™ (CQL), under real user conditions that mimic the user's actual experience.
"RapidValue has a team of dedicated domain experts who build highly productive enterprise applications on large number of device platforms for many industry verticals. By pairing our Continuous Quality Lab with their app development capabilities, together we look forward to delivering high-quality applications." says Shani Shoham, Senior Director, Business Development, Perfecto.
About RapidValue
RapidValue is a leading provider of end-to-end mobility, omni-channel and cloud solutions to enterprises worldwide. Armed with a large team of experts in consulting, UX design, application engineering and testing, along with experience delivering global projects, RapidValue offers a range of services across various industry verticals. We deliver services and digital solutions to the world's top brands, Fortune 1000 companies and innovative emerging start-ups. RapidValue has offices in the United States, UK and India. For more information visit http://www.rapidvaluesolutions.com
About Perfecto
Perfecto enables exceptional digital experiences. We help you transform your business and strengthen every digital interaction with a quality-first approach to creating web and native apps, through a cloud-based test environment called the Continuous Quality Lab™. The CQ Lab is comprised of real devices and real end-user conditions, giving you the truest test environment available.
More than 1,500 customers, including 50% of the Fortune 500 across the banking, insurance, retail, telecommunications and media industries rely on Perfecto to deliver optimal mobile app functionality and end user experiences, ensuring their brand's reputation, establishing loyal customers, and continually attracting new users. For more information about Perfecto, visit http://www.perfectomobile.com