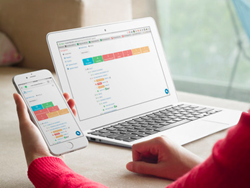 Our team focuses expressly on building tools that make study documentation easier and more compliant for trial sites.
Atlanta, Georgia (PRWEB) April 16, 2016
Association for Clinical Research Professionals (ACRP) Conference—The pharmaceutical industry spends roughly $35 billion a year on clinical drug trials to test new therapies.
About a third of that amount — $10 billion — is spent on monitoring and validation of study site processes and documents. Site monitoring is a personnel-intensive process that requires visits, documentation, and other workflow requirements.
The Florence eBinder Suite simplifies these tasks for both trial sites and pharmaceutical sponsors. Site users of eBinders spend less time tracking, editing and submitting documentation and more time advancing therapeutic research. Meanwhile sponsors using the tool realize faster startup, more flexible electronic trial master file assembly (eTMF) and the ability to activate remote trial site monitoring.
"Our team focuses expressly on building tools that make study documentation easier and more compliant for sites," says Ryan Jones, CEO of Florence. "It appears that the sharp growth in usage we've seen is the direct result of how easy it is for sites to transition to digital regulatory and source documentation work via our tools."
Growth measured in March is based on the total count of study documents managed by the Florence system across its customer base.
In parallel with this growth, Florence welcomes marquis research centers UCSF and Mt. Sinai to its network of hundreds of site customers. Research institutions use eBinders to accelerate startup and track compliance for studies spanning cardiology to oncology.
Florence eBinders is built in alignment with eSource and GCP (Good Clinical Practice) guidance from the FDA and the ICH, and Florence serves on the CDISC eSource Stakeholders Committee with the FDA. Florence was founded by experts in document management (Microsoft SharePoint), enterprise encryption security (Airwatch / VMWare), clinical trials (Medtronic), and healthcare (Emory). Software built by the Florence team has been deployed to 6 of the 10 largest pharmaceutical companies in the world and to 600 academic medical centers. Florence is based in Atlanta, Georgia.
To arrange an interview with the Florence team or for more information, please mail info(at)florencehc(dot)com