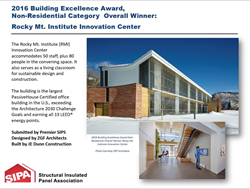 With more than 40 entries in this year's competition, the winning projects represent the finest SIPs construction
FT. Lauderdale, FL (PRWEB) April 19, 2016
The 14th Annual Structural Insulated Panel Association Building Excellence Awards were announced Tuesday evening, April 5, during the association's 2016 Annual Meeting & Conference in San Juan, Puerto Rico. This year's panel of judges included Ann V. Edminster, Design AVEnues, LLC; Chris Fennell, BuildingInsight, LLC; and Steven Mickley, Executive Director AIBD. The projects were scored on four criteria including how the use of structural insulated panels (SIPs) resulted in quantifiable energy efficiency; design and structural engineering innovation; creative use of SIP construction; and overall environmental sustainability.
The 2016 Building Excellence Award Non-Residential Overall Winner was awarded to the Rocky Mt. Institute Innovation Center. Submitted by Premier SIPS, the office building accommodates 50 staff, plus 80 people in the convening space and serves as a living classroom for sustainable design and construction. The building is the largest PassiveHouse Certified office building in the U.S., exceeding the Architecture 2030 Challenge Goals and earning all 19 LEED® energy points.
SIPs combined with strict construction details helped provide an air-tight design of 0.36 ACH for improving energy efficiency. In fact, the Innovation Center uses 74% less energy than the average building in this climate (as determined by Energy Star). SIPs were both in the walls and in the innovative curved roof panels.
The competition's Residential Overall Winner was the Beineke house renovation project submitted by submitted by GreenTech Construction with panels manufactured by MM&I Renegade Panels. This ~4,500 square foot 1872 timber-framed home was renovated with a ready-to-assemble SIPs package that not only maximized the home's energy performance but, also improved its structural integrity. Additionally, the factory precut panels improved the speed and accuracy of installation. The resulting 47 HERS Index and the extensive reuse of existing building materials makes this project a useful prototype for sustainable energy retrofits across the country.
"With more than 40 entries in this year's competition, the winning projects represent the finest SIPs construction. We will share these case studies with builders as we continue our path toward mainstreaming energy efficient SIP construction across the world," said SIPA Executive Director, Jack Armstrong.
Awards in each of the following eight categories were given to the firms listed below:

Affordable Housing: Sugar Mills Villas, St. Croix, submitted by Innova Eco Building System.
Agricultural: Organic Greenhouse, submitted by Innova Eco Building System.
Commercial/Industrial/Institutional over 10,000 sq. ft.: Rocky Mt. Institute Innovation Center, submitted by Premier SIPS.
Commercial/Industrial/Institutional less than 10,000 sq. ft.: Blue Wave on the Bay Hotel & Store, submitted by Enercept Structural Insulated Panels
Multifamily: Lake Area Suites, submitted by Enercept Structural Insulated Panels
Renovations: Beineke House Renovation, submitted by GreenTech Construction.
Single Family Homes over 3,000 sq. ft.: Twin Mountain Home, submitted by Foard Panel Structural Insulated Panels.
Single Family Homes less than 3,000 sq. ft.: Dunn Residence, submitted by Extreme Panel Technologies.
For more complete case studies or to learn more about SIPs, please visit http://www.sips.com.
About SIPA
The Structural Insulated Panel Association (SIPA) is a non-profit association dedicated to increasing the use and acceptance of structural insulated panels (SIPs) in green, high performance building by providing an industry forum for promotion, communication, education, quality assurance, and technical and marketing research. SIPs are a high performance, panelized building system that offers superior thermal performance, air tightness, and durability for energy-efficient homes and commercial buildings.
Builders and design professionals seeking to reduce energy use and minimize the carbon footprint of their buildings utilize SIPs as a cost-effective solution for exterior wall and roof systems that also cuts down on framing time, lessens construction waste, and ensures greater jobsite quality control through prefabrication. SIPs are an enabling technology to meet to the Architecture 2030 Challenge for net-zero carbon neutral buildings today.
About SIPS
Structural insulated panels (SIPs), used to build high-performance building systems for residential and light commercial construction, are panels consisting of an insulating foam core sandwiched between two structural facings, typically oriented strand board (OSB).
SIPs are manufactured under factory controlled conditions and can be fabricated to fit nearly any building design. The result is a building system that is extremely strong, energy efficient and cost effective. Building with SIPs will save you time, money and labor. As for cost,building with SIPs generally costs about the same as building with wood frame construction when you factor in the labor savings resulting from shorter construction time and less jobsite waste. Other savings are realized because smaller heating and cooling systems are required with SIP construction.
SIPA does not maintain pricing data from individual manufacturing members. If you are looking for pricing information, please contact our members directly through the membership directory.