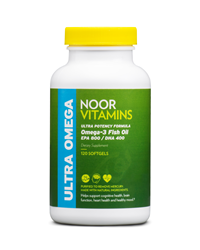 (PRWEB) April 19, 2016
Most American's eat too much fat, which can clog the arteries and increase the risk of heart disease. The human body does not make Omega 3's but needs this "good fat" to cleanse the cardiovascular system. In addition, Omega 3's have been suggested as a possible replacement for SSRI's (a class of antidepressants). Noor Vitamins' formula has been carefully produced to maximize these and additional benefits*.
Consumers should always take care in understanding the ingredients that go into their supplements. Noor Vitamins' new product was created with the safety and security of the consumer in mind. Toxins such as mercury are found in the north pacific, for example, largely because of excessive coal usage on the Asian continent. Noor Vitamins uses cold-water fish; wild caught off the coast of Peru. A state of the art, pharmaceutical grade molecular distillation process ensures pure fish oil, free of potential harmful levels of mercury, heavy metals, dioxins, PCB's and other contaminants. Pregnant women should always consult their doctor before taking fish oil.
As a company dedicated to the highest level of Halal standards, Noor Vitamins hopes to educate the public on the importance of safe, quality ingredients free of harmful and toxic chemicals.
NoorVitamins™, a division of Noor Pharmaceuticals, specializes in developing high quality, Halal vitamins and dietary supplements made with all natural ingredients to promote a healthy and Halal lifestyle. To learn more, please visit http://www.noorvitamins.com
*These statements have not been evaluated by the Food and Drug Administration. These products are not intended to diagnose, treat, cure or prevent any disease.