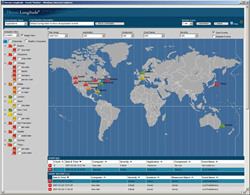 Longitude's new capabilities in grouping, manageability, reporting and dashboards will make it faster and easier for our customers to detect and fix IT issues that could disrupt business.
Braintree, MA (PRWEB) April 19, 2016
Heroix, developer of application performance and network monitoring software, said it has added new enterprise capabilities to Heroix Longitude to help companies improve IT resource monitoring and the speed at which they can resolve IT problems.
"With our application and network monitoring products running on thousands of critical servers across many industries, we continually provide up-to-date technology to our customers," explained Rick Lane, CEO. "Longitude's new capabilities in grouping, manageability, reporting and dashboards will make it faster and easier for our customers to detect and fix IT issues that could disrupt business."
Grouping
Longitude users can assign IT resources to groups that they name for effective organization and easy monitoring. One company might classify IT resources into business services such as payroll, production or finance, as well as other categories such as IT infrastructure (physical, virtual, and cloud), geographic location or company division. Each resource can be in multiple groups, so Longitude users can readily visualize, in real-time, how an availability or performance problem within a given IT resource affects business services or IT resources in other groups.
Longitude Manageability
Heroix has made it even easier to adapt Longitude to specific needs by increasing the visibility across the enterprise as well as into individual and discrete activities. It provides still more options and flexibility in terms of command and control of multiple IT resources. For example, if a large number of IT resources need to come off-line from monitoring temporarily, it requires just a click or two.
Customize Report Schedules
Heroix has also added new reporting capabilities, with the ability to customize the scheduling of reports to suit a business' needs. Longitude users can leverage pre-determined schedules for whatever time interval is necessary. This flexibility means that all stakeholders throughout the organization can get the reports and decision-making information they need at the time and place it provides the most value to them. For example, reports can be scheduled to constantly update the Longitude portal as well as a company's Sharepoint portal with valuable performance and availability information.
New Features on Dashboards
The company has improved notifications on Longitude dashboards to better show the health of monitored resources. Any problems present with a resource will show up individually on a dashboard, eliminating the need to drill deeper into the dashboard to locate the issue.
Pricing and Availability
Longitude 10.0 is available now. Please visit Heroix or call 800-229-6500 or 781-848-1701. Heroix also offers a 14 day free trial of all Longitude Editions. Pricing begins at $399.
About Heroix
Heroix Longitude is a proven, self-service applications, network performance, and virtualization monitoring solution. It delivers immediate, comprehensive performance information, at an affordable price, to solve multiple monitoring challenges in companies of all sizes. The agentless software is the fastest and easiest-to-use application and network monitoring software available. Longitude monitors hundreds of vital performance metrics, alerts you to problems, takes corrective actions, and creates reports for everyone, from executives to IT staff. There is no lengthy installation or learning curve; non-IT staff can purchase Longitude and be monitoring within 10 minutes.
Heroix, Heroix Longitude, RoboMon, Heroix eQ, and their corresponding logos are registered trademarks of Heroix. All other company and product names mentioned are used only for identification purposes and may be trademarks or registered trademarks of their respective companies.