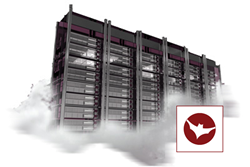 Our PVR Backup solution fulfills a vision we've had for five years - which was to improve and modernize traditional backup methods.
Toronto, Ontario (PRWEB) April 18, 2016
Bacula4 Inc., a leading provider of automated data backups and restores, announced today a significant new advancement called Progressive Virtual Full (PVF) Backups. This recently developed system combines many of the successful best practices from the past with an innovative new approach.
When Bacula4 started development, there was a significant gap in the market for backing up and restoring large, complex, multi-platform IT environments. Founding parent Cartika Inc. was looking for a solution to meet this specific need for its hosting clients and after extensive research decided to build their own leveraging the powerful open source Bacula engine.
According to Bacula4 CEO Andrew Rouchotas, "PVF Backups are the fulfillment of a vision that has been in the works for five years now - and that is to improve upon and modernize traditional backup methods." Andrew goes on to say "Our goal continues to be offering clients and partners backup and restore capabilities that optimize resources while providing the highest levels of data integrity and flexibility possible."
The following points describe how the new Bacula4 PVF Backups work:
1) First, an initial full backup (seed) is created and sent over the network to storage.
2) Next, on-going cumulative incremental backups are taken at selected time intervals. The ideal retention period length is generally under a few months. The interval frequency can be virtually anything desired.
3) Once the first retention point has been reached, the process changes by taking the last full backup, adding the incremental changes during the initial retention period, and then creating a new PVF Backup directly on the backup storage device.
4) From that point on, data that changes during the chosen interval period (daily for example) will continually be recompiled with the Progressive Virtual Full Backup to create a new, up-to-date version of itself.
In essence, the system always maintains a current copy of a recompiled full backup based on the original data. This method provides a very recent and entire dataset that is accurate, and extremely easy and fast to restore.
About Bacula4 Inc.
Founded in Toronto in May 2011, Bacula4 has established itself as a leader in backup and recovery automation solutions. Built on open standards and concepts, it's simply a more intelligent way to manage backup and recovery requirements. Bacula4 builds and maintains a full automation and integration suite, letting users quickly and easily manage full backups and DR strategies for any sized business. Trusted by thousands of IT professionals and enterprises, Bacula4 delivers proven reliability. With robust automation, integration, and business logic - Bacula4 is highly scalable, cost-effective, and flexible. It also comes with 24×7 technical support.
For more information, visit http://www.bacula4.com or follow us on social media.