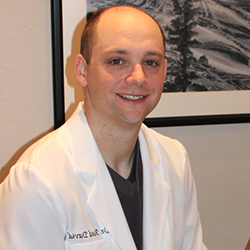 Eagle, CO (PRWEB) April 15, 2016
Individuals with gum disease are now welcome to receive minimally-invasive laser dentistry in Eagle, CO, from Dr. Reed David. Dr. David is proud to now utilize the BIOLASE WaterLase iPlus 2.0™ system to treat periodontal disease in a gentle and rapid manner. The mild nature of this laser treatment is due to the patented combination of atomizing water and air that is utilized in conjunction with powerful laser energy to treat diseased gums.
Dr. David encourages patients who are afraid of receiving treatment for gum disease to find out how minimally-painful laser dentistry in Eagle, CO, can be. Although traditional treatments for periodontal disease are often fairly invasive and uncomfortable, the BIOLASE WaterLase iPlus 2.0™ treatment system eliminates much of the discomfort associated with the removal of diseased gum tissue. The laser-based system uses a patented form of laser energy in combination with a gentle spray of air and water to sooth the treatment area while simultaneously locating and treating tissue inflamed with bacteria.
Patients who do not receive treatment for periodontal disease could suffer detrimental consequences to their health. Aside from the some of the problems that periodontal disease can cause, including receded gums, chronic halitosis and oral discomfort, the disease has also been linked in recent studies to grave health problems. Although the link is not yet fully understood, there is a connection between untreated periodontal disease and stroke, low birth weight babies, and many other health issues. Dr. David urges patients with periodontal disease to receive treatment quickly in order to avoid developing more serious health problems.
The BIOLASE WaterLase iPlus 2.0™ system is safe and gentle for use on patients of nearly any age, and is also ideal for those who suffer from dental anxiety. The powerful laser is capable of cutting through soft tissue with ease and precision, lowering the risk of damage to healthy tissue.Laser dentistry in Eagle, CO, is also typically much faster than traditional treatments, and many patients can receive gum disease treatments for multiple areas in their mouth during a single office visit. Patients are encouraged to schedule an appointment to receive treatment with the WaterLase iPlus 2.0™ system by calling Dr. David's office, Eagle Valley Dental.
About the Practice
Eagle Valley Dental is a general practice offering personalized dental care for patients in Eagle, CO. Dr. Reed David offers a variety of services using the most advanced technologies, including laser dentistry and 3D imaging, to ensure the most accurate and comfortable procedures. Dr. David is an honors graduate of the University of Tennessee, College of Dentistry and has received additional training through the Kois Center, Misch International Implant Institute and Pikos Implant Institute. To learn more about the services offered at Eagle Valley Dental please visit their website at http://www.eaglevalleydental.net or call (970) 281-4022 to schedule an appointment.