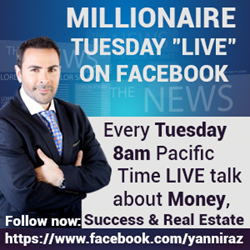 LIVE Business show only on Facebook
(PRWEB) April 18, 2016
"Millionaire Tuesday", a popular LIVE Facebook broadcast, is adding another feature to the weekly show: industry specific entrepreneur interviews. These interviews will bring successful individuals from various industries onto the Facebook "airwaves", where they will discuss a wide array of business-related topics. Launched mere months ago, "Millionaire Tuesday" is already gaining traction with entrepreneurs interested in hearing varying perspectives on subjects such as real estate, healthy entrepreneurial habits, and properly leveraging debt.
The show is one of the first of its kind, bringing entrepreneurs from across the nation together to share ideas, stay informed, and learn about trends occurring in the financial and real estate sectors.
About the Host
The increasingly popular show's host, Yanni Raz, heads up the Los Angeles-based HML Investments firm. This organization specializes in real estate lending, and has a sound reputation as one of the industry's premiere funding sources.
"We're thrilled with the show's increasing popularity," stated Raz. "It began as a fun way for us to share our passion of business-ownership with others. But, in just a short period of time, it has evolved into so much more."
Raz continued: "The new addition of bringing entrepreneurs onto the show to share their thoughts and perspectives is exciting, and we look forward to learning just as much as our viewers along the way."
Following the Show
Anyone interested in following "Millionaire Tuesday" should visit http://www.facebook.com/yanniraz for more information.
Participating as a Guest
Anyone interested in having their business featured on "Millionaire Tuesday" LIVE on Facebook should contact him at the information listed below -
Name: Yanni Raz
Telephone: (818) 308-4443
Email: info(at)hmlinvestments(dot)com