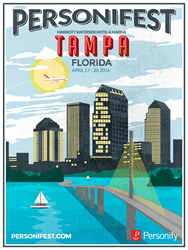 Austin, TX (PRWEB) April 15, 2016
Personify Corp, the leading provider of enterprise software and service solutions to mission-driven and member-focused organizations, prepares to kick off their annual user conference in Tampa, Florida this Sunday, April 17th through Wednesday, April 20th. PersoniFest is the conference by and for Personify clients. At PersoniFest, attendees will have the opportunity to meet with hundreds of industry contacts to discover new and valuable resources and solutions for improving insight, maximizing engagement and increasing revenue.
PersoniFest is unique in that most of the educational sessions are taught by professionals from leading organizations that are successfully using the Personify and Small World Labs solutions. Attendees are also offered the opportunity to receive free consulting from project managers, business analysts, accounting experts and developers during the three-day conference.
Personify President and CEO Eric Thurston will kick off the event with a State of the Company address Sunday evening, and Monday's keynote presentation will be delivered by acclaimed author and global futurist Jack Uldrich. Khorus CEO and author Joel Trammell will also host a highly-anticipated session outlining the importance of leveraging predictive insight to manage the future of an organization.
This year's conference will be divided into six tracks: Accounting, System Admin/IT, Senior Executive, Marketing/Membership/Meetings, Online Community Management and the new Deep Dive track. The conference also encourages attendees to see the sights of Tampa, dedicating a full day to activities like a dolphin watching cruise or a round of golf at TPC Tampa.
This is Personify's 17th year hosting the annual user conference, continuing their commitment to improve the way nonprofits and associations engage their members and drive organizational efficiencies. Learn more at http://www.personifycorp.com.
Personify delivers enterprise software and service solutions to leading mission-driven and member-focused organizations that enables them to drive value through best-of-breed technology and best practices. As an organization's technology and community foundation, Personify captures, advances, and provides insight across all member interactions, allowing them to maximize engagement and drive revenue. This is supported by a partnership-based service philosophy committed to helping organizations make smart decisions about their technology in order to maximize both internal and member adoption and ultimately their return on investment.