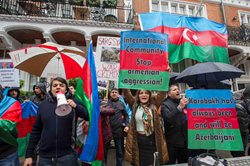 Karabakh is our home
London, UK (PRWEB UK) 15 April 2016
On 15 April, a noisy protest by a group of Armenians outside the Azerbaijani Embassy in London was neutralised by a passionate counter-demonstration by more than 70 Azerbaijani protestors and friends of Azerbaijan, including employees, friends and supporters of The European Azerbaijan Society (TEAS). Their patriotism was unaffected by the driving London rain, and chants included 'Stop Armenian aggression'; 'Stop the Armenian occupation'; 'We are from Karabakh'; 'Armenia – hands off Karabakh'; 'Karabakh is Azerbaijan'; 'Karabakh is our home'; 'We want Justice'; and 'Sargsyan – War Criminal', referring to the role of the Armenian President in the Khojaly Massacre, which claimed the lives of 613 civilians in 1992.
A full-size digital advertising van was positioned outside the Embassy, displaying photos of just a few of the estimated one million Azerbaijani internally displaced persons (IDPs) and refugees who remain in temporary encampments across Azerbaijan. They are the ongoing victims of the Armenian–Azerbaijani conflict over Nagorno-Karabakh. These were captioned with such slogans as 'Let me go home to Karabakh'; 'Displaced for 20 years – why?'; 'Armenia must accept international law'; and 'Armenia – release Azerbaijani lands now'.
Also on display were photos from the 'trial' of Dilham Asgarov (aged 55) and Shahbaz Guliyev (aged 47). In December 2014, these two men were jailed for life and 22 years, respectively, by an illegal and unrecognised court in Armenian-occupied Nagorno-Karabakh for the alleged 'crime' of visiting their ancestors' graves.
The protest came in the wake of the events of 1–2 April when the Armenian armed forces occupying the Azerbaijani territory of Nagorno-Karabakh and the seven surrounding regions violated the ceasefire by firing on civilians in the territories near the 'contact line'. Azerbaijani forces were forced to respond, capturing strategic positions in the hills overlooking the 'contact line' and displacing the Armenian artillery units. Regrettably Armenia has since resumed its attacks upon these civilian populations and has not accepted the solutions proposed by numerous international organisations.
Pedro Agramunt, President, Parliamentary Assembly of the Council of Europe (PACE) recently said: "I am extremely worried at the reports of violence in Nagorno-Karabakh and deeply saddened at the loss of life. All Armenian armed troops must withdraw from the occupied Azerbaijani territories in compliance with the UN Security Council resolutions."
This week, Federica Mogherini, High Representative for Foreign Affairs and Security Policy, European Union and Vice-President, European Commission, speaking at the European Parliament in Strasbourg, remonstrated: "The Nagorno-Karabakh conflict is an obstacle to the development of both countries and the entire region. The situation in Nagorno-Karabakh was central to my talks in Armenia and Azerbaijan during my visit there last month… the events around Nagorno-Karabakh are another reminder of how dangerous the protracted conflict can be. Large-scale conflict is not in the interests of anyone, and can lead nowhere."