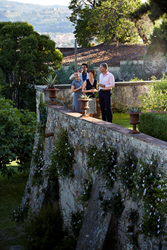 For the past few years, Trafalgar has sought out and hired some pretty exceptional locals to give tourists memorable outings they won't find in guidebooks.
Anaheim, Calif. (PRWEB) April 15, 2016
Trafalgar guided vacations is launching a Europe trip giveaway sweepstakes as the third season of PBS series "The Travel Detective" gears up, featuring Trafalgar's immersive experiences and the experts that reveal them in two episodes. Produced and hosted by CBS News Travel Editor Peter Greenberg, the show's audiences receive cutting-edge travel news, must-have information, and insider secrets on navigating the travel process.
"Guided vacations have always been popular, but not all are created equal," said Greenberg. "It's about participatory travel in a local culture and much more than just seeing the expected sights. For the past few years, Trafalgar has sought out and hired some pretty exceptional locals to give tourists memorable outings they won't find in guidebooks."
Greenberg traveled on Trafalgar's Flavors of Italy trip, experiencing insider moments first-hand like meeting and dining with a local Tuscan doctor and his wife at their 200-year-old private estate nestled in the Chianti hillside. As part of Trafalgar's Be My Guest program, a home-cooked meal is served by the couple's daughter, a professionally-trained chef, in the villa's wine cellar in the heart of the beautiful Tuscan countryside.
A best-in-class travel director accompanies every Trafalgar trip, sharing their passion and knowledge and serving as guests' personal local expert and concierge. The required rigorous professional development program is explained in one of the Trafalgar-featured segments of the show and includes training on topics like anticipating basic human needs and the psychology of what motivates human behavior. It is this training that makes all the difference in a great travel experience and vacation.
Each episode of "The Travel Detective" has need-to-know tips to improve the travel experience. The 30-minute fast-paced series also features signature "Hidden Gems" destination segments, where Greenberg highlights his personal picks and favorite experiences off the tourist map. Reports on volunteer vacation opportunities show how you can help local communities around the world. Featured destinations in this season include Spain, London, China, Florence, and Singapore, among many others. Check local listings for air dates or go to PeterGreenberg.com.
Viewers can win a trip for two to Europe on a choice of more than 100 Trafalgar itineraries, including airfare, valued at up to $10,000. Enter at trafalgarcontest.com through May 15, 2016. Conditions apply. See contest entry site for full details.
Trafalgar vacations include all the essentials, from specially-selected four-star hotels, many local meals, VIP access to skip the long lines at major sights, and an expert professional Travel Director who speaks the local language provides concierge-style service the entire trip. To book a vacation, talk to Trafalgar's Travel Experts at 866-544-4434, contact a Travel Professional or visit trafalgar.com.
About Trafalgar
With almost 70 years of expertise, every Trafalgar trip is infused with the best moments like exclusive Insider Experiences, VIP treatment and relaxing free time. Committed to doing everything to give guests the best vacation, that means they are guaranteed the best memories. Trafalgar is a member of the family-owned The Travel Corporation (TTC), renowned and trusted for its outstanding quality, service, value, reliability and financial stability. Join the conversation at: Trafalgar.com, Facebook.com/TrafalgarTravel, Twitter.com/TrafalgarUSA, Instagram.com//TrafalgarTravel.
About The TreadRight Foundation
Trafalgar is a proud supporter of the TreadRight Foundation. Created as a joint initiative between TTC's family of brands, the TreadRight Foundation is a not-for-profit working to ensure the environment and communities we visit remain vibrant for generations to come. To date, TreadRight has helped support more than 35 sustainable tourism projects worldwide. The foundation's guiding principle is to encourage sustainable tourism development through conservation, leadership and support for communities.
TreadRight's past project partners include World Wildlife Fund, Conservation International and The National Trust in the UK. Current initiatives include sponsoring the National Geographic Society's inaugural "World Legacy Awards," helping to combat wildlife crime with WildAid, and empowering individuals with the Alliance for Artisan Enterprise.
To learn more about our past and current work at TreadRight, please visit us at treadright.org.
About Peter Greenberg
Peter Greenberg is America's most recognized, honored and respected front-line travel news journalist. He is Travel Editor for CBS News, nationally syndicated radio host and a New York Times best-selling author.
Greenberg produces and co-hosts a series of ground-breaking television specials called "The Royal Tour," featuring one-on-one journeys through countries with their heads of state: Prime Minister Benjamin Netanyahu of Israel, the King of Jordan, the Prime Minister of New Zealand, and the President of Mexico, among others.
A multiple Emmy Award-winning investigative reporter and producer, Greenberg is the consummate insider when it comes to reporting the travel business as news. Travel Weekly named him one of the most influential people in travel and he was inducted into the U.S. Travel Association's Hall of Leaders for his contributions to the travel industry.
About the Production Company
Check Six Productions is a Los Angeles-based production company. Previous specials include: The Crash of Flight 191, Maria Shriver's California, and The Royal Tour series. Check Six co-developed and co-executive produced the Travel Channel show, Baggage Battles, and Lost Magic on The History Channel. Check Six Productions produces original web video series, including "Like a Local" and the Telly Award-winning "Hidden Gems," both hosted by Peter Greenberg.
Also produced by Check Six Productions is Peter Greenberg Worldwide Radio, a 3-hour, nationally syndicated broadcast that airs from a different location every weekend, and the Peter Greenberg Worldwide Travel Minute, a daily, short-form broadcast.
###