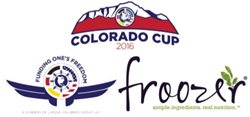 "The Colorado Cup is a perfect event for Froozer® to get behind as it underpins the values of our brand, mainly, that we do good for the body, environment and communities we serve." -- Des Hague, Froozer® Chairman of the Board.
Denver, CO (PRWEB) May 13, 2016
Des Hague, Co-Founder of Hague Enterprises and Chairman of the Board of Froozer®, and Justin J. Rose, owner of Germany's JJR Consulting GmbH and Founder of Funding Ones FREEDOM, are teaming up to organize the first annual Colorado (soccer) Cup, fueled by Froozer®, to be held at Air force Academy, Colorado Springs, CO July 13. German Soccer Team Mainz 05 will battle Mexican Team Leones Negros for the Cup. As part of Colorado Cup 2016 there will be a "Celebration of Soccer Week" coming to Vail and Colorado Springs, July 11-15.
"Colorado Cup 2016 and Funding Ones FREEDOM will greatly benefit from Des' passion for giving back and helping others, his years of experience and know how, and his attention to detail and making things happen successfully, said Rose. "We are particularly excited about involving lots of local kids who will greatly benefit from their training experience with professional German soccer coaches at the various clinics held during 'Celebration of Soccer Week'," concluded Rose.
Throughout the Celebration of Soccer week, there will be youths soccer camps taking place at Air Force Academy in Colorado Springs and in Vail, a Youth All Star Girls Game followed by Mainz 05 vs. Switchbacks at Switchbacks Stadium in Colorado Springs, CO, on July 12, and a Youth All Star Boys Game followed by the Mainz 05 vs. Leones Negros Colorado Cup game at Air Force Academy in Colorado Springs, CO on July 13.
"I am delighted to partner with Justin to bring this major soccer event to Colorado," said Hague. "It is not every day you get professional teams from Europe and Latin America playing in your backyard. This is special and I am glad to lend my support."
FUNDING ONE'S FREEDOM is a for profit, social enterprise which partners with businesses and people to raise funds needed to inspire the youth by instilling F.R.E.E.D.O.M. from within. Proceeds from events like the Colorado Cup 2016 go towards FUNDING ONE'S FREEDOM. The Colorado Cup 2016 will provide money to various soccer associations and clubs for their development and help sponsor youth soccer camps and international exchange programs. FUNDING ONE'S FREEDOM has helped foreign exchange students, youth soccer teams and individual soccer players and will continue to provide future funding for children and people striving for F.R.E.E.D.O.M. stands for Fitness, Responsibility, Education, Experience, Determination, Opportunity and "If it is meant to be, it's up to me "Mindset."
"The Colorado Cup is a perfect event for Froozer® to get behind," stated Hague. "Froozers are healthy and tasty, grab-n-go snacks for active people. We see soccer in the US as a growing sport and one that underpins the values of our brand, mainly, that we do good for the body, environment and communities we serve," concluded Hague. "Part of our commitment is that we will provide samples during clinics for the kids, sponsor kids in need to participate in pro-run clinics, and make available event tickets for folks who would like to participate but may not have the means."
Businesses, organizations and individuals are invited to help by sponsoring a child for $400 per child to partake in this amazing opportunity of being trained by Mainz 05 professional coaches. For more information on how to get involved, please visit http://www.coloradocup2016.com.
About Froozer® - "simple ingredients. real nutrition."
Froozer® products, the official healthy frozen fruit and vegetable snack of US Speed Skating, represent the pure goodness of freshly harvested fruits & veggies picked at the peak of their ripeness, flash-frozen whole and blended for optimal taste, nutrition and digestion. Natural fruits and veggies in all their glory, nothing added or subtracted, not even a drop of water. Available in three delicious flavors - STRAWBANANA BLISS, TROPICAL SUNSET and BLUE ALOHA - in 6-pack boxes. Look for Froozer® in your local grocery store freezer at selected retail locations in and around Denver, including WholeFoods and Alfalfa's, and various select retailers in Arizona, California, Connecticut, Massachusetts, Oregon, Washington State, Rhode Island and Alaska, or place your order at http://www.Froozer.com or http://www.Amazon.com to have your Froozer® delivered directly to your home or office.
For more information: http://froozer.com/
Contact: Rich Naha, CEO, Froozer®
Phone:303-246-1957, Rnaha@froozer.com
Connect with Froozer® on Facebook or Twitter