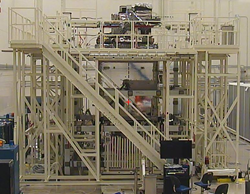 We have evolved quite a bit over the past several years, and we need to demonstrate to our customers our full range of capabilities. Our ability to design products for their unique applications is on the top of that list.
Lewistown, MT (PRWEB) April 18, 2016
Spika Welding and Manufacturing, Inc., a company that designs and manufactures work platforms and ground support equipment in central Montana, has re-branded as Spika Design and Manufacturing, Inc. The change reflects the company's increasing focus on structural aluminum design, particularly in the aerospace and manufacturing industries.
Over the past three years, Spika's sales of custom-designed work platforms and ground support equipment have grown steadily. While the company continues to manufacture standardized products for commercial and defense customers, its competencies in design have attracted a new customer segment. For example, Spika has recognized considerable success designing specialized upper-level access platforms for facilities manufacturing products ranging from helicopters and satellites to turbine engines.
In addition to the name change, Spika has redesigned its website and moved to a new URL, http://www.spikamfg.com. The new site makes it easier for potential customers to see examples of Spika's design projects and broadens the focus from the aviation industry to include several other industries in which the company operates.
"The new name and website accurately represent our company as it exists today," said Tom Spika, CEO and Director of Design. "We have evolved quite a bit over the past several years, and we need to demonstrate to our customers our full range of capabilities. Our ability to design products for their unique applications is on the top of that list."
In addition, the new website showcases the people behind the products. "Our whole team is proud of what we do, of where we come from, and of where our products go," said Bekhi Spika, Director of Marketing. "We wanted to make sure this new website tells the story of Spika and introduces our customers and stakeholders to our values."