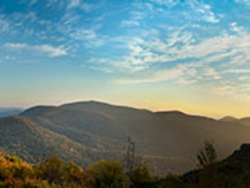 Shenandoah National Park, VA (PRWEB) April 15, 2016
This year April showers bring more than flowers. Visit Shenandoah National Park April 16th – April 24th during National Park Week for fee-free admission. You heard that right – admission is free!
This week is all about connecting people with the great outdoors, exploring amazing places, and celebrating one of our great country's most beautiful features – it's national parks. Take in the fresh spring air, reach new heights on one of the scenic hiking trails, and get some exercise without even realizing it. Then it's time to relax at Skyland with a delicious meal paired with the perfect Virginia wine, or sit down and get artsy with a cork and canvas painting class.
There is so much to do that week both inside the park and the surrounding region that you need to stay longer than just one day. Here are seven days of suggestions:

Sunday morning take a ranger-led hike to Stony Man Summit - the 2nd highest point of elevation in the park – and in the afternoon take a guided walk out in the big meadows. Sunday evening join NASA JPL Solar System Ambassador Greg Redfern for an engaging presentation about outer space followed by night skies viewing;
Monday morning take a guided walk from Byrd Visitor Center and discover the plants and animals that make Shenandoah a special place. Tour the Visitor Center and discover the history of Shenandoah's past and the creation of this national park. In the afternoon join a ranger for a talk about one of Shenandoah's amazing animals;
Tuesday morning take a guided horseback ride from the Skyland stables. Then head to Luray and explore the underground beauty of Luray Caverns, take a spin through time at the Car & Carriage Caravan and step back in time and discover the rich history of the Shenandoah Valley at the Luray Valley Museum;
Wednesday is a Presidential day as you travel to Charlottesville and visit Thomas Jefferson's beloved Monticello and James Monroe's Ashlawn-Highland Plantation with lunch at Michie Tavern;
Thursday get breakfast from the Grab 'N Go and head out for an early morning self-guided hike to Miller's Head Lookout, a fairly easy 1.6 mile RT hike to a spectacular view. Thursday afternoon participate in a wine tasting event in the Skyland Mountain Room and sample some of the award-wining wines of CrossKeys Vineyards;
Friday head out for the day on the Skyland Wine-Whisky Shuttle with a picnic lunch included. Visit Rappahannock Cellars, Desert Rose Winery and Copper Fox Distillery. Complete the day with an evening four-course culinary experience at the Shenandoah Seasonings Whiskey Dinner featuring River Hill Distillery;
Saturday morning join the NPS Birds of Prey program at the Big Meadows amphitheater.
Take a self-guided hike to Dark Hollow Falls. This 1.4 mile RT hike is very steep with a 70' waterfall. If you prefer an easier hike, do the 1.8 RT mile Story of the Forest Trail from Byrd Visitor Center. Saturday afternoon offers two events. Beginning at 1:30 p.m. at the Byrd Visitor Center, participate in a special Centennial Live Music Event. Musician Ed Willet presents John Muir: University of the Wilderness. This "narrative concert" intertwines the music of the American ensemble "Chance" and the writings of naturalist John Muir. Then at 3:00 p.m. create a Shenandoah work of art at Skyland's Cork N Canvas Painting Workshop.
So book your stay at Skyland and make a memory! Find out more about times and dates for Skyland events at http://www.goshenandoah.com/activities-events/calendar . NPS ranger-led program details at https://www.nps.gov/shen/planyourvisit/rangerprograms.htm. Call 877-247-9261 for lodging reservations and information.
About Shenandoah National Park
Established by Congress in 1935, Shenandoah National Park in the Blue Ridge Mountains of Virginia contains nearly 197,000 acres of land with over 500 miles of trails, including 101 miles of the Appalachian Trail. Shenandoah draws up to 1.2 million visitors a year with its rich history, unique geography and wildlife, as well as the panoramic vistas from the Skyline Drive. This National Scenic Byway, built during the Depression era, winds along the crest of the mountains through the length of the park, providing vistas of the sweeping landscape to the east and west. Lodging options in the park include Skyland (mile 41.7), Big Meadows Lodge (mile 51), and Lewis Mountain Cabins (mile 57.5), which are operated by Delaware North, an authorized concessioner and hospitality provider for the National Park Service. For more information about Shenandoah accommodations, dining and special events, call 877.247.9261 or visit http://www.goshenandoah.com.
About Delaware North's parks and resorts business
Delaware North is a global leader in the hospitality industry, operating lodging, recreational activities, food and beverage services, retail and educational programming at destinations throughout North America, Australia and Asia. Delaware North operates in many of the country's iconic national and state parks, including Kalaloch Lodge in Olympic National Park and Niagara Falls State Park, as well as at cultural attractions such as Kennedy Space Center Visitors Complex. Its portfolio also includes five luxury resorts in Australia. To learn more about Delaware North's hospitality management expertise, visit http://www.delawarenorth.com/parks-and-resorts-home.aspx.
About Delaware North
Delaware North is one of the largest and most admired privately-held hospitality companies in the world. Founded and owned by the Jacobs family for nearly 100 years, it is a global leader in hospitality and food service with subsidiary and affiliate operations in the sports, travel hospitality, restaurants and catering, parks, resorts, gaming and specialty retail industries. Its portfolio includes high-profile venues ranging from sports stadiums, entertainment complexes, national parks, restaurants, airports, and some of the top regional casinos in the country. The company also owns a selection of award-winning destination resorts, as well as a series of premium restaurants and catering services that are leaders in the industry. Delaware North has annual revenue exceeding $3 billion with 60,000 employee associates serving half a billion guests in the United States, Canada, the United Kingdom, Australia, New Zealand, and Asia. "Delaware North" is a reference to Delaware North Companies Inc. and its affiliates and subsidiaries, including location-specific operating entities.
Tiffany Roshanian
PR Counsel for Delaware North/Shenandoah National Park
(O) 703-793-3420
tiffanyr(at)white64(dot)com