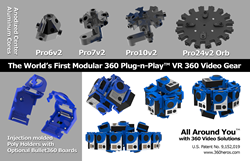 With this new design we can produce more of our holders, and faster with more robust technology, to help our customers meet their demands for VR content - Michael Kintner, 360Heros CEO and Founder
Las Vegas, Nevada (PRWEB) April 18, 2016
360Heros Inc., is proud to announce the launch of its whole new modular product line of virtual reality 360-degree video multi-camera holder line.
This new line builds on our current patented 360 Plug-n-Play™ models and its continuation patent utilizing multiple cameras held in a spherical array to capture 360-degree photos and videos.
The redesigned product line features 6, 7, 10 and 24 camera solutions which will be available for Pre-Order next week along with our new 3D 360 Video modular designs as well.
The new modular system introduces the world's first interchangeable VR 360 plug-n-play arrays for creating 360 video. Key features of the new holders include:

Injection molded parts for added strength, durability and modular flexibility
Hinged camera arms for easy installation and camera protection
V2 versions of the holders replace existing holders with improvements in design and ease of use
Electronic versions of each holder feature the Bullet360 control boards for syncing and simultaneously operating cameras
Anodized aluminum cores provide high strength mounting solutions and make it easy to switch between the Original V2 and the Electronic Bullet360 boards, its holders and the assembly
"Not only is this exciting and fulfilling to be introducing a whole new modular lineup of 360 gear, moving from 3D printing to injection mold production was really the next logical step for us," Michael Kintner, CEO and founder, said. "This goes to show what demand we've been facing – we couldn't 3D print our rigs fast enough to keep our customers satisfied and more importantly the warranty and of the integrity of the assemblies which we guarantee."
"With this new modular design we can produce more of our holders faster with more robust technology, to help our customers meet their demands for VR content," he added.
In another move to meet customers' demand, 360Heros announced starting in May they will offer monthly 360 video creation training sessions, alternating between sites in Boston and their office in Los Angeles.
"There's so much demand for training in this field that sessions we've offered in the past, including one through VRLA School, sold out in record time," Mr. Kintner said. "Ultimately our goal is to help 360-creators produce amazing content, and training is another component we're happy to help with."
The first session is slated for Saturday, May 7, at Village Workspaces, Los Angeles, CA.
About 360Heros:
360Heros Inc., a company specializing in virtual reality 360 video technology, creates camera systems that capture 12K resolution spherical VR content. 360Heros also develops 360 video workflow solutions such as 360CamMan, the world's first VR media management software. Through years of research and innovation, 360Heros is empowering content creators to push the limits of this emerging technology and our ability to create immersive content. 360Heros, Inc. is not an affiliate of GOPRO® or Woodman Labs, Inc. 360Heros is a very proud user of GOPRO® cameras.