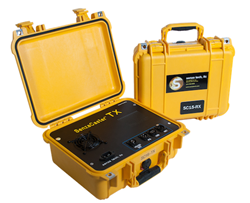 Basking Ridge, NJ (PRWEB) April 18, 2016
For the first time ever, cost weary users of broadcast quality satellite transmission services will be offered a revolutionary alternative that meets or exceeds traditional HD-SDI video quality and reliability without the use of satellite trucks, reservations, on-site engineering staff or additional cabling, and all at a total cost savings of more than 50% when compared to traditional dish-based system.
The SenzaCaster™ solution from Senza Tech, LLC is a portable, plug-and-play, secure, video transmission system that utilizes your current company's video infrastructure investment and employs standard internet connections to transmit globally, while also insuring compatibility with any worldwide video standard. 
 
"For years, HD Video users of broadcast quality transmission systems have been constrained by 3 key challenges: scheduled satellite availability, complex logistical and physical challenges, and high costs", says Scott Levine, Co-Founder of Senza Tech, LLC.  "In short, our disruptive, patent-pending SenzaCaster™ solution, packaged in portable 15 pound units and enabled by our cloud-based video management portal, is a real game-changer and effectively solves all 3 issues". The SenzaCaster™ solution is available now, and more information can be found at http://www.senzatech.com.
 
About Senza Tech, LLC: Senza Tech, LLC is a world leader in the burgeoning field of portable, lower cost, standards driven, cloud-based video solutions targeted at broadcast networks, production companies, corporate enterprise, healthcare, government and educational institutions. Founded in 2014 by Scott Levine and Sandor Bondorowsky, the company operates from its global headquarters in Basking Ridge, NJ.
For more information, please contact: Peter Muller at (212) 520-0720 or pmuller(at)senzatech(dot)com