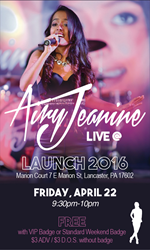 "I'm excited about being a part of the Festival. I love to sing, and express myself artistically in a way that brings enjoyment to people." ~Airy Jeanine
Franklin Lakes, NJ (PRWEB) April 18, 2016
The music festival season is underway, and Entertainer Airy Jeanine is set to make her debut in striking fashion, at the 2016 Launch Music Conference & Festival. The rising Pop star is scheduled to hit the stage at 9:30pm at the Marion Court, 7 E. Marion Street in Lancaster, Pennsylvania, on Friday, April 22.
The 8th Annual extravaganza is being held at various downtown sites in the historic city. It's a weekend full of panels, seminars, parties and performances. She will be joining artists from all over the country representing and performing a variety of musical genres. Past features have been the likes of, Panic! At the Disco, twenty one pilots, and Atyeru. This year's lineup includes: Bayside, The Weekend Riot, and Yazz the Greatest from the hit Fox TV series Empire. Panelists from LiveNation, iHeartRadio, ReverbNation, and more will cover information on touring, publicity, publishing etc.
Airy Jeanine, the young New Jersey based Pop singer, is presently promoting her new song "Do You", which has made it to #27* on Billboard Mainstream Top 40 Indicator Chart, #10* on the FMQB (Friday Morning Quarterback) AC40 Chart. Other notable high rankings are on the National Radio Hits, New Music Weekly, and Independent Music Network music charts. The accompanying video already has seen widespread exposure from extensive airings on nationwide video outlets and receives in-store play at retail establishments across the USA.
Her previous single, "Mama's Girl", set a tone, picking up significant charting positions, video visibility, additionally getting her several nominations, and a 2015 Best Pop Song Akademia Music Award.
As "Do You" continues to climb the charts and gain more supporters, a Euro-remix is already gaining traction in the International marketplace. Produced by the influential DJ Toby from Malta, it's been getting radio airplay and club spins in the Mediterranean region, steadily extending the global awareness of her brand.
All versions of her songs, and Airy Jeanine merchandise are available to consumers on her website. Music, is available from all digital retailers, including iTunes, Amazon, Google Play, etc. The continuing exposure via radio and video airplay, clubs, assorted media platforms, and other outlets, is contributing to the growing success of this amazing new talent.
Living in a multimedia world, the enterprising teenager has starred in a TV Pilot, "Airy Jeanine and Friends", which is being shopped to production companies and networks, and she has written a Children's book, "This Is Me", scheduled to be published in the coming months.
Meanwhile, people in attendance at the Launch Music Conference and Festival 2016 is in for a prime opportunity to see the undeniable emergence of Airy Jeanine as she takes the stage to performs her hits and more.
About Kmina Entertainment
Based in Franklin Lakes, NJ, the company is an efficiently run start-up entertainment entity that produces, promotes, and markets music, video and related multimedia projects. It is creating a solid foundation for its artist to grow in a focused long-term environment.