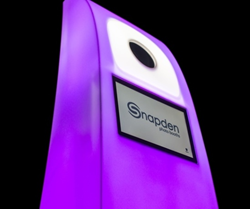 Snapden has spent the past six years devoting every ounce of energy to our chore strength – product design.
LAS VEGAS, NEVADA (PRWEB) April 18, 2016
Snapden Photo Booths has worked hard for the past six years, focusing on innovation and driving design in the photo booth industry forward. Their showing at the 2nd Annual Photo Booth Expo at the South Point Hotel in Las Vegas was proof their work has paid off in a big way.
In a trade show with nearly 100 exhibitors displaying various models of portable photo booths, it was hard to stand out. For trade show attendees, row after row of photo booths blended together, often indistinguishable through benefit nor style. And then there was Snapden.
Black hardwood floors and strategically placed, purple up-lighting framed the best presented company at the expo. The modern layout and design of the Snapden trade show booth drew huge crowds from the beginning, who spent time interacting with and experiencing the products offered by the Colorado based Engineering and Design Company.
Just as impressive as the overall look and feel of their booth, was the number of proprietary designs and refined products Snapden had available. Where most companies at the show focused on a single item, Snapden displayed seven products, each with its unique place in a well-rounded product line.
On Monday, the day before the exhibit floor opened, Owner and Chief Product Designer – Kalvis Jaunarajs – presented a seminar. Kalvis spoke to a room overflowing beyond capacity about the design process, specifically pointing out the power that focus has on innovation.
"In a rapidly growing industry it's easy to get distracted with the hope of new and foreign opportunity." Kalvis explained, "Snapden has spent the past six years fighting this urge, devoting every ounce of energy to our chore strength – product design."
At the conclusion of the presentation Kalvis spoke about the future of the industry: "In order for the Photo Booth industry to continue growing, we [as an industry] cannot get complacent." Kalvis then reinforced the fact that Snapden is actively working on its next generation of products, always aiming to push the industry forward through innovative design.
More information on Snapden and their line of modern, portable photo booths can be found at: http://www.snapdenphotobooths.com